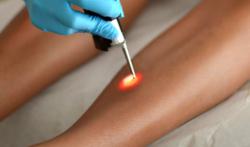 The newest science and technology advances are not allowing us to stay in the past.
New York, NY (PRWEB) November 27, 2012
In the last two years laser hair removal popularity increased so tremendously that it has become the third most sought after non-surgical treatment. While the market and demand for the treatment have increased, the quality of laser hair removal treatments in many cases has not caught up with the times. New technology such as the Elite MPX by Cynosure is revolutionizing the industry by reducing side effects and improving results across various skin types.
Sabina Kozak, Spa Director of Sensitive Touch Medical Spa in New York, points out that "most laser treatment centers are not investing in up-to-date technology and produce lesser efficacy with higher risks of side-effects. Clients blinded by online deals are not taking their time to research the best treatment options that are currently available with the latest advances in laser hair removal technology".
Sabina Kozak together with most Spa Directors and doctors in the field are thrilled with the increased demand for laser hair removal. However, she is also alarmed with the high number of online negative reviews from clients that are experiencing poor results with cases of undesirable side effects ranging from burns, scars and pigmentation. Many providers are offering laser hair removal treatments using older technology that does not produce results that are promised in advertising and marketing efforts and directed toward new clients. Some of these treatments are not safe for all skin types. Laser hair removal providers of offering clients treatments performed with the newest laser technology and knowledge of all available types of lasers used for laser hair removal is important and should be a priority for those seeking treatment.
Sabina Kozak can't seem to stress enough that "providers should not and cannot expect clients to come with full knowledge of laser hair removal procedures. They should not be left with limited information about the procedure before they make their final decision". Today, this is more important than ever, due in most part to online deals that are making laser hair removal treatment more affordable than ever with more and more clients willing to give this procedure a try without taking any time to research the technology used at their chosen clinic and the potential side-effects. Medical spas and clinics providing laser treatments who educate their customers and are dedicated to constant research, clinical trials, and new laser technology greatly reduce chances of errors resulting in higher levels of client satisfaction.
The Elite MPX by Cynosure, the laser technology of choice at Sensitive Touch Medical Spa where Ms. Kozak works, is representative of a new generation of cosmetic lasers that give the provider an ability to fire multiple laser wavelengths at the same time. "We have chosen the Elite MPX laser for our New York medical spa for its revolutionary capabilities that are now becoming even more useful due in part to large numbers of darker skin clients who are searching for providers that can offer them a laser hair removal treatment that safe and effective."
Ethnic skin tones and darker-skinned individuals require laser light with long wavelengths and pulse widths, preferably with the 1064 Nd: YAG laser. As a comparison, shorter wavelength lasers such as the 755 Alexandrite laser are effective only on some lighter skin types. This type of laser is so well absorbed into melanin that it can lead to epidermal damage on darker skin types and can cause hyperpigmentation, a darkening of the skin, or hypopigmentation, a dramatic lightening of the skin. The Elite laser however combines both of these laser wavelengths and can be used separately or combined for truly customized treatment. Furthermore, the Nd: YAG 1064nm laser is able to travel deep underneath the skin in order to reach melanin present in the hair follicle without harming epidermal pigment. This is the most optimal laser for ethnic skin tones.
Laser hair removal is not a "one-size-fits-all" kind of a treatment and not all lasers are created equally. Laser hair removal can produce the desired 70% to 90% permanent hair reduction with virtually no side-effects only when performed with the correct laser wavelengths and with settings adjusted for customized treatment on each type of skin. "Our clients are not all the same. Neither is their skin or hair. Why would we offer them a treatment that is exactly the same as everyone else's? The newest science and technology advances are not allowing us to stay in the past. Nor are New Yorkers, who demand and expect nothing but the best."