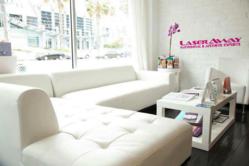 The opening, set to take place in August of 2012, marks the company's thirteenth location overall.
Los Angeles, CA (PRWEB) July 13, 2012
This summer LaserAway, California's leader in laser hair removal and other aesthetic treatments, will be traveling to Arizona to open its first out of state location. With sites already established all over California from San Francisco to San Diego, the company has a controlling stake in the state's laser hair removal needs and is looking to expand to unconquered territories. Where to first? Scottsdale Quarter in Arizona.
"Scottsdale Quarter is home to many of the world's finest retail brands and we are proud to be part of their offering," said LaserAway marketing director Nicole Kenton. The opening, set to take place in August of 2012, marks the company's thirteenth location overall and the first step forward in LaserAway's goals for nationwide expansion. Along with the new LaserAway facility in Scottsdale Quarter are some of the most well-known retail brands across the globe, as well as premier dining experiences and entertainment spots. Laser Away is hoping that the location will help boost them to a new level. As one of the most profitable and high-end shopping places in the country, LaserAway sees Scottsdale as the perfect place to move for their first spot out of California.
LaserAway specializes in laser hair removal, but also offers a number of other services as well. Tattoo removal, BOTOX, photofacials, and body contouring are just some of the treatments that can be scheduled with the company, which was first established in 2006 on the Sunset strip in Los Angeles. LaserAway tries to make the process of laser hair removal as comfortable and casual as possible, creating a safe and relaxing alternative to the usually frigid, expensive doctor's office. This new location will be a test as to whether the young company can succeed outside of California and continue promoting its services all the way across the country.
ITC is a high-end Internet Marketing firm ranked in the top 1% of their industry. ITC prides itself on being the firm handling LaserAway's online marketing efforts.