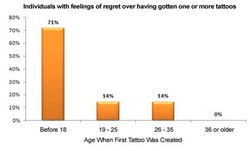 How many tattoos do you have?
Beverly Hills, CA (PRWEB) September 15, 2010
Celibre Medical Corporation is a leader in laser dermatology, utilizing the latest FDA approved laser technology for cosmetic medical procedures such as skin resurfacing, stretch mark treatment, and tattoo removal. With a dedication to remaining the industry leader and a focus on education, Celibre Medical has recently conducted a study on tattoo removal in an effort to understand the differences between people who end up happy with tattoos as compared with the individuals who ultimately regret the decision to acquire body art.
The study was organized around a group of 65 individuals, each of which had at least one tattoo. The purpose of this group was to evaluate the individuals' attitudes towards their tattoo(s) in an effort to uncover any potential factors that may result in the feelings of regret over getting the tattoo(s) in the first place.
The survey results revealed some interesting patterns: It was evident that individuals who received their first tattoo(s) before the age of 18 were 5 times more likely to regret them later in life. Moreover, and more surprising, the study showed that even those individuals for whom tattoos carried a sentimental meaning were not necessarily spared regret later in life.
The Details
The participants in the study were chosen at random from among individuals passing by a very prominent shopping destination of Los Angeles, over the course of 3 days. The following questions were asked of the participants:

"How many tattoos do you have?"
"How old where you when you received your first tattoo?"
"Do you have any feelings of regret about acquiring your tattoo(s)?"
"Does each of your tattoos have any sentimental meaning?"
Once the answers to the 4 primary questions were obtained, an additional question was asked:
"Have you ever had any tattoo(s) removed or altered by any process whatsoever?"
Of the individuals that took part in the survey, it was discovered that 32% had 1 tattoo, 43% had 2–3 tattoos, 17% had 4–5 tattoos, and 8% had 6 or more tattoos (this information, as well as all other answers were freely and openly volunteered by the participants of our survey).
Moreover, of the 65 individuals in the Group, 19% received their first tattoo before they were 18 years old, 51% received their first tattoo between the ages of 18–25, 22% where tattooed for the first time between the ages of 26 –35, and 8% received their first piece of body art at 36 years of age or older.
As for the results:
Overall, the survey identified that about 10% of Group A's participants had some feelings of regret in regard to having gotten tattooed. 7 of the 65 people fell into this category. The study defined "regret" as "having any desire to remove or alter one or more of the tattoos, should the removal process be made freely available and completely free of discomfort." Any individuals who have participated in laser tattoo removal treatment automatically qualified for being put into this sub-group of interest.
With the goal of the study being the understanding of the prevalent factors contributing to regret over tattoo(s), the sub-group of those having expressed interest in removing tattoos was examined in greater detail.
Of this group, 71% have created their first tattoo prior to 18 years of age. This find has consequently resulted in this conclusion: individuals who begin tattooing their body at or before the age of 18 are significantly (5x) more likely to experience at least some degree of disappointment later in life. While there are certainly multiple factors affecting one's attitude, it seems clear that age is an important consideration.
The culture of tattoo enthusiasts is an interesting factor to consider when evaluating people's attitudes about their own body art. Of the 7 individuals who have expressed feelings of regret, the majority only had 1 or 2 tattoos (57% had 1 tattoo, 29% had 2–3 tattoos, and 14% had 4–5 tattoos). The trend appears such that the more tattoos one seems to acquire, the less likely he or she will experience any dissatisfaction with the body art.
Finally, only 3 of the 7 individuals who would opt for tattoo removal if given the option said that their tattoos carried a special meaning. While not likely a statistically significant discovery, it does seem to suggest that many individuals acquire tattoos simply for the artistic aspect of their creation, as well as their appearance. According to this study, having a sentimental message is not a prerequisite to getting tattooed.
For those considering getting tattooed for the first time, please take some time to consider the consequences, especially at a younger age, when the desire to act on impulse could be the strongest - the regret later in life could be severe! As for those who admire body art and feel that it is an excellent means of self-expression, know that Celibre supports artistic self-expression in all forms, and when practicing it in the form of body art, but cautioned to observe all the proper hygienic requirements associated with getting a tattoo.
###