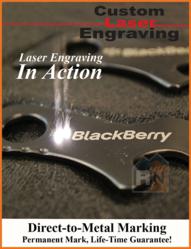 Rocky National is quickly becoming known as the place to go for high quality laser engraving
Eau Claire, WI (PRWEB) June 13, 2011
Best known their high levels of customer satisfaction and low prices on knives and multi-tools, Rocky National now offers in-house custom laser engraving.
Using state of the art equipment, Rocky National provides customers with custom knives and tools by permanently marking them with a powerful laser in razor sharp clarity. Utilizing high resolution digital proofing and the latest in direct to metal laser marking, Rocky National is quickly becoming known as the place to go for high quality laser engraving. Logos and artwork can be resized or modified to fit just about any knife or tool. Law enforcement agency logos, military insignias, as well as corporate logos are all within the realm of Rocky National's expertise. No job is too big or too small; they handle everything from groomsmen gifts to large quantity orders for corporate gifts. Options include everything from small keychain tools like the Gerber Shard to large military knives like the Gerber LHR.
With quality name brand products from Gerber Knives, Spyderco, Ka-Bar, SOG, ESEE, and more, Rocky National can help you select the perfect item for any occasion. Quantity discounts are available on all items. For more information visit the website or call 800-705-2040.
###