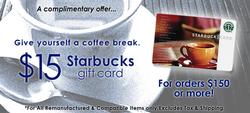 Brea, CA (PRWEB) October 22, 2008
Shopping for Laser Toner Cartridges may not be foremost on everybody's list of must-buys, but Color Toner Expert gives its customers several reasons to put it on top of their list. The online authority on Laser Toner Cartridges is focusing all their marketing efforts in offering high quality and yet extremely affordable Laser Toner Cartridges.
Quality need not always come with a high price tag and ColorTonerExpert.com knows exactly what that means. From color toners to black toners, Color Toner Expert makes sure that all laser toner cartridges being sold meet utmost customer satisfaction.
The first of its many perks ColorTonerExpert.com is offering is challenging customers to test the company's claim of offering the lowest prices on Laser Toner Cartridges among all online retailers. If one finds a lower offer online, ColorTonerExpert.com is willing to match the price and slash off 10% from the difference, as well.
As a company, ColorTonerExpert.com understands that shopping for Laser Toner Cartridges can be quite boring, if not, tedious at times. To make it worth their customers' while, the company is also giving away a free $15 Starbucks Gift Card to customers who purchase more than $150 worth of Laser Toner Cartridges. Simply key in the coupon code (cte8103-strbk15) to avail of this refreshing coffee discount. This offer is good until November 3, 2008.
Additionally, online purchases come with an extra cost - shipping fees. As a company who truly believes that customers should not be burdened with additional costs, every purchase of Laser Toner Cartridges worth more than $50 is guaranteed of a $10 Flat Rate on the shipping fee. To avail of this discount, simply choose '$10 Flat Rate Shipping Coupon' from Shipping Options upon checkout.
More great discounts and added perks are in store for loyal customers of ColorTonerExpert.com. Find out about the latest updates and information on Laser Toner Cartridges by subscribing to the mailing list.
About ColorTonerExpert.com
ColorTonerExpert.com is an online reseller of high quality remanufactured laser toner cartridges at bargain prices. The company offers a wide array of laser toner cartridges, OEMs and remanufactured, for numerous printer models such as HP, Brother, Canon, Dell, Xerox, and much more. Inkjet cartridges and inkjet photo papers are also being sold.
# # #