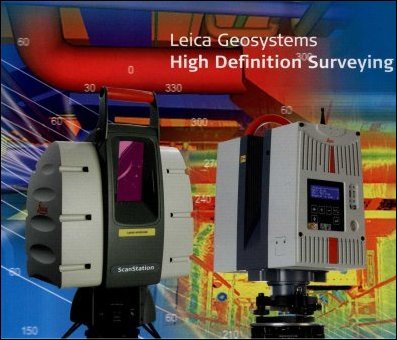 For many participants this show offered the first chance to see and test Leica Geosystems next-generation HDS6000 phase-based laser scanner, and we had trouble keeping up with demand for demos
(Vocus) April 25, 2007
Norcross, Ga., 20 April, 2007): For the fourth consecutive year, Spar Point Research analysts validated that in the laser scanning market, Leica Geosystems is unrivaled. In announcing the firm's assessment of the laser scanner market for 2006, managing partner and senior SPAR analyst Tom Greaves estimated that Leica Geosystems captured 41 percent of the market, maintaining the largest market share by more than a dozen vendors in the laser scanning sector. The next largest vendor was estimated to have a 17 percent share.
Throughout the two-day conference, held Mar. 26th-27th in Houston, TX., more than 50 percent of presenters illustrated how Leica Geosystems' laser scanning technology is an integral part of their varied civil infrastructure from plant to building applications.
In addition to exhibitor presentations there was a high level of interest in Leica Geosystems' on-site demonstrations of the recently released Leica HDS6000, Leica ScanStation and Leica TruView software.
According to Geoff Jacobs, SR Vice President of Strategic Marketing for Leica Geosystems HDS "For many participants this show offered the first chance to see and test Leica Geosystems next-generation HDS6000 phase-based laser scanner, and we had trouble keeping up with demand for demos," said Jacobs. "Coupling that with the chance to view our latest TruView software, we had an extremely busy booth."
SPAR 2007 also presented the opportunity for Leica Geosystems to participate in the show's first-ever forensic and security metrology conference, an event that focused on the benefits of advanced laser scanning and related technologies for crime scene investigations.
A team led by Tony Grissim, Leica Geosystems' forensic account manager, deployed Leica Geosystems' high-accuracy GPS, robotic total station and 3D laser scanning sensors to measure and to document an outdoor, mock "crime scene" staged by members of the Federal Bureau of Investigation and the Albuquerque Police Department Crime Laboratories.
"This conference provided plenty of validation for us that Leica Geosystems is doing a good job of listening to the needs of our forensic customers and providing them with the tools and police-specific training they need to determine truth that will hold up in court," said Grissim.
Leica Geosystems - when it has to be right
With close to 200 years of pioneering solutions to measure the world, Leica Geosystems products and services are trusted by professionals worldwide to help them capture, analyze, and present spatial information. Leica Geosystems is best known for its broad array of products that capture accurately, model quickly, analyze easily, and visualize and present spatial information.
Those who use Leica products every day trust them for their dependability, the value they deliver, and the superior customer support. Based in Heerbrugg, Switzerland, Leica Geosystems is a global company with tens of thousands of customers supported by more than 2,400 employees in 22 countries and hundreds of partners located in more than 120 countries around the world. Leica Geosystems is part of the Hexagon Group, Sweden.
About SPAR:
Spar Point Research LLC is a research firm founded in 2003 by Tom Greaves and Bruce Jenkins. We investigate new technologies that improve the productivity, quality and safety of work process for creating, modifying and managing engineered products and constructed assets. Spar Point's principals have served the world's leading manufacturing and construction firms as well as the world's most successful software developers and hardware suppliers for the past twenty years. Its research has been cited by leading business and trade publications worldwide. For more information: http://www.sparllc.com.
Leica Geosystems, Inc.
Jennifer Bumford
Marcom Coordinator for Geomatics
5051 Peachtree Corners Circle
Norcross, GA 30092
Phone +1 770 326 9536 (direct)
Fax +1 770 447 0710
http://www.leica-geosystems.us
###