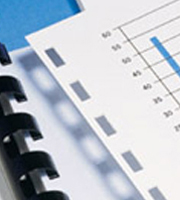 Pre-Perfed or Pre-Punched Laser Cut Sheets work great for Medical Forms, Statements, Legal Forms and More.
Danvers, MA (PRWEB) December 19, 2012
POS Supply Solutions, Inc. (POS Supply) has expanded their offering of Laser Cut Sheets. POS Supply Solutions Laser Cut Sheets are suitable for high speed copiers, laser printers, inkjet printers, offset presses and plain paper fax machines. Choose from perforated and punched to suit your needs.
Our Perforated Cut Sheet Paper is ideal for invoices, statements or sheets which require a user remittance. We offer a complete selection of horizontal and vertical perfed sheets. Perforations are cut clean, leaving a perfect edge and allowing sheets to run smoothly, without jamming in even the most sensitive printers or copiers.
Our Punched Cut Sheet Paper offers complete punching capabilities to meet exact needs for medical forms, delivery forms and filing requirements. Each sheet is individually punched for smooth running laser performance.
POS Supply offers a comprehensive line of laser cut sheets for a variety of industries. All products are in stock and available for immediate delivery. Customers can order laser cut sheets from POS Supply Solutions with total confidence that they are receiving premium quality products at a great price.
About POS Supply Solutions
POS Supply Solutions provides point of sale and transaction supply solutions, serving a full spectrum of hospitality, retail, financial, gas station, medical, wireless and business transaction applications. Established in 1999, POS Supply Solutions' corporate facility is located in Danvers, MA with distribution warehouses strategically located across the United States. Over the past 13 years, POS Supply Solutions has worked with thousands of companies to ensure they receive the point of sale supplies needed for successful and efficient business operations. POS Supply Solutions was proudly named to the Inc. 500|5000 list of fastest growing companies of 2011.
Contact:
Stephen Enfield
POS Supply Solutions
(978) 406-4230
senfield(at)possupply(dot)com
http://www.possupply.com