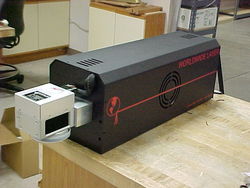 Gilbert, AZ (PRWEB) June 26, 2008
Worldwide Laser Service Corporation is pleased to introduce the new LP8000 Co2 laser marking system for custom wood and plastic drawers and cabinets.
The LP8000 series of Co2 lasers from Worldwide Laser are perfect for marking wooden or plastic drawers and cabinets.
The Galvo based laser marking systems provide for fast easy laser marking of custom logos, identification, or other information that adds value to custom wooden or plastic drawers the system is ideal for custom cabinets as well.
The LP8000 series of Co2 lasers can laser mark complex logos & names into the drawers or cabinets in 20 seconds or less this speed is possible due to the specific design and layout for the Worldwide Laser series of Co2 lasers the LP8000 series and is much faster than any other type of laser systems, the laser controller software is windows based and easy to use, there are three different software packages from which customers can choose depending on the specific needs and requirements, options such as scanning the traveling bar code to select the proper laser marking files, RS232 or serial text input for automatic laser marking of custom messages that can be changed with each laser mark in fractions of a second, or automatic selection of the proper marking file with binary tag identification are available.
Laser Systems from Worldwide Laser can be stand alone stations that are operated with manual loading of the parts for laser marking by an operator, or can be automated with conveyer belts, pick-n-place robotics, etc for high thru-put production demands.
Worldwide Laser is the leader in the manufacture of fast long lasting reliable laser marking systems for custom drawers and custom cabinet manufacturers.
Call the laser experts at Worldwide Laser let us build a drawer marking system for your operations.
Below is a list of internet address links to view videos related to laser marking drawers and custom cabinetry:
Laser Marking Flagstaff Cabinet Logo
Laser Marking Columbia Shutte Image
Laser Marking Camera Image
Laser Engraving Columbia Shutte Image on white drawer face
Laser Engraving Cat n Bulls-eye Image
Also please visit our website http://www.wlsc.com and click on "Watch our New Videos" to view other recent laser projects.
About Worldwide Laser
Worldwide Laser headquartered in Gilbert, Arizona and founded in July of 1986 builds Co2 laser cutting, laser marking, and laser etching systems. From 10 watts to 600 watts power.
Worldwide Laser also builds diode and lamp pumped laser and fiber laser marking, laser cutting, and laser etching systems from 6 watts to 300 watts.
Worldwide Laser is one of the only OEM suppliers of T.E.A. mask Co2 lasers the LP2000 series either spark gap or thryatron driven.
Worldwide Laser is the industry expert in automation of laser systems and building custom lasers for your specific production requirements.
To contact Worldwide Laser call 480.892.8566 option 5 or fax 480.497.9661
E-mail info @ wlsc.com URL http://www.wlsc.com
# # #