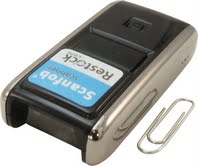 "I highly recommend the Scanfob®2002 Scanner. Our team saved 2-3 days and over $4200!"
-Michael Taylor, IT Manager from STI International
Santa Barbara, CA (PRWEB) November 28, 2012
Mobile solution specialist Serialio.com announces the ultra-compact 1 ounce (28 gram) Scanfob® 2002 mobile wireless laser RFID barcode scanner. This fast and accurate scanner is compatible with iPhone 5, iPad 4, iPad Mini, iPod Touch 5, Samsung Galaxy Family, Google Nexus Family, HTC ONE Family, and virtually all Android devices with Bluetooth.
Serialio.com also provides Scanfob® brand NFC (Near Field Communication), and GEN2 UHF RFID readers. Used together, the Scanfob® family of scanners & readers, and the Grid-In-Hand(tm) Mobile Grid Solution Framework, provide a wide range of barcode and RFID solutions on the latest mobile devices from Apple, Samsung, Google, HTC, as well as virtually every Android tablet and phone with Bluetooth. Data from Mobile Grid can be sent in Excel format anywhere. Data can also be posted to any iOS and Android app that can accept keystroke data.
The Scanfob® 2002 is the most affordable, high-quality, fast, accurate, compact, pocket-sized, wireless barcode Bluetooth laser scanner available worldwide. Serialio.com's one-button-solutions have cut attendance tracking time by 90%, at ¼ of competitor's prices for many Serialio.com's customers, including The Toronto International Film Festival Group.
The Scanfob® 2002 is capable of connecting to mobile devices from up to 30 feet away. Scanfob® 2002 also has memory for 20,000 scans and timestamps, a battery life long enough to last a full work day, and charges through any USB port. Serialio.com's SerialMagic software is unmatched in the industry in handling barcode, RFID, and other serial data, while the small Scanfob® 2002 wireless Bluetooth scanner makes the software easy to use.
On sale for $279 this holiday (list price $314), the Scanfob® 2002 delivers an affordable option for individuals as well as large corporate accounts. The featherweight scanners are an easy way for employees to manage inventory counting and tracking, restocking, asset tracking, automated crib management, attendance taking, job time tracking, cycle counting, packing, roll taking, shipping, delivery, book and item scouting, plus much more. Click here to see the Scanfob's one-button scan-to-spreadsheet in action.
Michael Taylor, IT Manager from STI International says, "I highly recommend the Scanfob® 2002 Scanner. Our team saved 2-3 days and over $4200!"
Serialio.com is recognized as an innovative company aligned with the industry's New Age of Customization, however, their solutions stand apart from their competition in affordability, ease of use and customer support.
Serialio.com's CEO Dave Boydston says, "Our barcode and RFID products are cutting-edge technology, while our customer service is hands-on, old school. When you call us, you can speak to a specialist who'll talk to you about your solution needs. If we don't have exactly what you need, we can implement a customized solution for you based on our powerful framework at far below our competitors' prices. If not, we'll tell you where to get the best solution for you. We provide your solution. Period."
The Scanfob® 2002 barcode scanner saves time and money in Airline Operations, Aerospace, Attendee Management, Asset Tracking and Management, Criminal Justice, Energy & Utilities, Entertainment, Events, First Response, Government, Health Care, IT Assets & Equipment Recovery, Large Corporations, Pharmaceutical, Postal, Publishing, Restaurant, Retail, Security Auditing, Small Business, Sports, Supermarket, Manufacturing, Trade Shows, Transportation, Travel, Warehouse Management and more.
Through December 31, 2012, Serialio.com is giving away a Google Nexus 7 Android tablet that can be used with the Scanfob® 2002. Enter to win here and on Facebook.com/Serialio and Twitter.com/Serialio.
"The Scanfob® 2002 Bluetooth barcode reader is simply the best choice." says Christophe Orceau, CEO, Streetlight.Vision, Computer Software to monitor the streetlights of Paris, France.
Founded in 1992 in Santa Barbara, CA, Serialio.com provides one-button mobile cross-platform Bluetooth barcode and RFID scanning solutions on over 500 mobile device models, combining state-of-the-art software and hardware. Its SerialMagic and other software solutions are unmatched. Customers range from major Fortune 1000 companies to independent developers, located in over 60 countries worldwide. For more information, visit serialio.com, email sales(at)serialio(dot)com, or call (805) 964-8883, Pacific Standard Time.