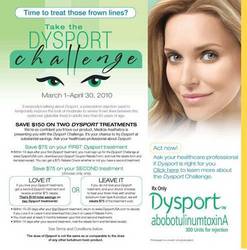 At LaserTouch SoHo, we know that each customer needs specific attention and we strive to accomplish our high standards for each customer by personalized attention.
New York, NY (PRWEB) April 1, 2010
Dysport™ represents the first new botulinum toxin type A treatment option in eight years to reach the U.S. market place. Dysport™ temporarily relieves, and improves the look of frown lines, by alleviating facial expressions in the brow, without affecting other nerve functions.
LaserTouch SoHo, a leader in medical aesthetics in New York, is now offering Dysport™. Until April 30, clients can benefit from the "Dysport Challenge", a $150 discount offer on the first two Dysport™ treatments.
To learn more about the Dysport Challenge, please contact LaserTouch SoHo at (212) 219-1990 or visit at http://www.lasertouchsoho.com.
About LaserTouch SoHo Medical Aesthetics Centers
LaserTouch SoHo is a one-stop clinic for a vast array of medical cosmetic needs. The variety of services extends beyond those provided at any other medical aesthetic center in Manhattan.
Overlooking Spring Street in Soho, LaserTouch provides the highest quality medical aesthetic services in Manhattan and is the choice of celebrities and professionals.
At LaserTouch experienced specialists provide laser hair removal and Dr. Ali Vafa performs Botox , Dysport, dermal filler injections, skin rejuvenation, laser genesis, skin tightening, chemical peels, acne treatments, vein treatments, mole removal and many other aesthetic services.
Visit LaserTouch SoHo at http://www.lasertouchsoho.com for more information.
# # #