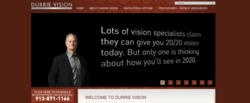 Kansas City, KS (PRWEB) May 04, 2011
As the popularity of social networks such as Facebook soars, Dr. Daniel Durrie says social media will play an integral role in enhancing patients' online experience at his Kansas City laser eye surgery practice this summer. He adds that the online community built around his practice not only allows patients to interact when searching for firsthand information regarding a procedure such as cataract surgery, but also allows them to connect through Durrie Vision with their Kansas City community as they head into Summer 2011 events the practice is sponsoring, such as Kansas City T-Bones baseball, or the Star Spangled Spectacular on the 4th of July.
At Durrie Vision, Dr. Durrie and his team say the patient experience is extremely important and reaches beyond the office into the social media platform. Within this platform, the Durrie Vision staff says they can build relationships with their patients, and allow patients to interact with one another. Dr. Durrie says continuing to foster the growth of their social media community is essential to the staying power of the Kansas City practice. He adds that while 700 billion monthly minutes on Facebook is a tremendous amount of time, when he considers the invaluable and supportive conversation centering on his practice, the overall benefits for vision correction and LASIK eye surgery patients are tough to ignore.
Whether his patients are posing questions concerning a future procedure, or sharing their experience with a procedure they have undergone at Durrie Vision, Dr. Durrie says information exchanged on the social network can lead to better-educated patients and help develop realistic goals and expectations. He adds that as social media popularity continues to expand, he expects the online community centered on Durrie Vision to become increasingly useful to current and potential patients.
About Dr. Durrie
Daniel S. Durrie, MD earned his medical degree from the University of Nebraska, where he also completed his ophthalmology residency. He later completed a Corneal Fellowship with the Finkins Eye Institute. Dr. Durrie is director of Refractive Surgery Services at the University of Kansas Medical Center, and is also an acting clinical professor. However, as Dr. Durrie's true passion is research, Durrie Vision is one of a few practices in the U. S. chosen to conduct FDA trials on certain procedures. He was awarded the Distinguished Lans Lectureship, as well as the Barraquer Lecturer, which is the highest honor awarded to an ophthalmologist by the International Society of Refractive Surgery. Because of his affiliation with research institutes and FDA trials, Dr. Durrie's patients not only benefit from his knowledge of trial outcomes, but also developing and current trends for future technological advancements.
Durrie Vision is located at 5520 College Blvd. Ste. 201 in Overland Park, KS 66211, and can be reached at (913) 491-9650, or found online at http://www.durrievision.com or the Durrie Vision Facebook page.
###