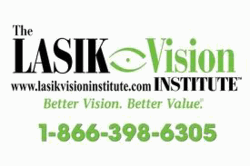 More than 25 million people around the globe are enjoying the benefits of improved vision thanks to these men and their discovery of corrective laser eye surgery. -- Ben Cook, LVI CEO
West Palm Beach, FL (PRWEB) February 05, 2013
The LASIK Vision Institute (LVI) extends its heartfelt congratulations to the pioneers behind LASIK surgery for being awarded the National Medal of Technology and Innovation. Inventor Gholam A. Peyman and researchers Samuel Blum, James J. Wynne and Rangaswamy Srinivasan were all honored in a White House ceremony late last week.
The Unites States' most prestigious honor of its kind, the national award recognizes leading innovators for technological achievement. President Obama personally bestowed the medal upon Peyman, Wynne and Srinivasan. Scientist Samuel Blum passed away last month and received the award posthumously.
"Laser refractive surgical techniques… have revolutionized vision enhancement," said President Obama in his ceremony address. "I want to congratulate these extraordinary Americans once again for all their accomplishments."
By discovering the excimer laser's capabilities, the IBM researchers laid the ground work for Peyman, who invented LASIK surgery. Vision correction was completely transformed by this unprecedented innovation. Whereas previous eye procedures were imprecise and required extended recovery periods, laser vision correction today provides a speedy, safe and effective option.
"More than 25 million people around the globe are enjoying the benefits of improved vision thanks to these men and their discovery of corrective laser eye surgery," said LVI CEO Ben Cook. "The amazing foresight, hard work and creativity of these pioneers have truly made the world a better place."
About The LASIK Vision Institute
The LASIK Vision Institute (LVI) provides life-changing laser vision correction services at the company's 39 centers in 24 states across the United States. Some of the country's most highly experienced independent LASIK doctors utilize the safest, most state-of-the-art, clinically proven and FDA-approved LASIK technology at each LVI center. LVI's skilled eye surgeons have performed more than 900,000 procedures, delivering 20/20 or better vision within a year to 98% of patients. Pre and post-operative visits and patient counseling are available at all locations. Because LVI owns its own laser equipment it is able to offer consumers pricing significantly below other providers while maintaining the highest standard of care and service. Learn more about LVI's affordable LASIK pricing and financing programs by visiting the company's website.