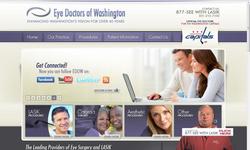 Washington, DC (Vocus) March 23, 2010
A local ophthalmology and vision care practice known for its commitment to state-of-the-art technology and laser vision correction procedures is relaunching its website to reflect a more futuristic view. Eye Doctors of Washington is using internet video, links to social networking platforms, and page upon page of procedure descriptions to give web visitors a thorough look at its practice and what it offers. Founded by a group of professors at the Center for Sight at Georgetown University, EDOW has been serving the DC and Maryland region for more than 40 years. Doctors with the Washington, DC LASIK practice say the new website will serve as not only an introduction to its facility, but also as an interactive educational guide for those who are looking to correct an array of vision problems and attain significant improvement in how they see.
The new website illuminates procedures such as LASIK laser vision correction, a procedure designed to reshape the cornea to treat nearsightedness, farsightedness, and astigmatism. Some of EDOW's LASIK surgeons in Washington, DC were involved in clinical trials that ultimately led to the procedure's approval by the U.S. Food and Drug Administration. The treatment has become popular since the 1990's for its ability to help patients reduce and even eliminate the need for eyeglasses and contact lenses.
In addition to LASIK, EDOW's new website also encompasses the many other vision care procedures offered by the practice. Cataract surgery, implantable contact lenses, treatment for glaucoma, eyelid surgery and eye care for children are also covered in detail on the site, many with embedded video documentaries featuring EDOW's doctors explaining the procedures.
EDOW's new website, developed in collaboration with Rosemont Media™, a medical and dental website design firm in San Diego, also features written and video testimonials from some of its patients, an updated blog, and quick links to the practice's Facebook, YouTube, and Twitter pages. Vision care specialists with Eye Doctors of Washington say they hope the new website will give visitors a clear view of the many treatments available for a wide variety of eye conditions, and that the use of some of the Internet's most powerful tools can help them reach out to people in new and innovative ways.
About Eye Doctors of Washington
Utilizing advanced procedures and state-of-the-art techniques for patients considering vision care treatments such as LASIK in Washington, DC, Maryland, and the Virginia area, Eye Doctors of Washington is an academically-oriented vision care practice staffed with some of the most respected ophthalmologists and eye surgeons in the region. Drs. Thomas E. Clinch and Paul C. Kang have performed more than 20,000 LASIK procedures combined. EDOW offers a comprehensive range of treatments for an array of eye and vision conditions. In addition to laser vision correction and eye surgery, the practice also offers non-surgical vision care, prescription glasses and contact lenses, and aesthetic enhancement treatments.
For more information, Eye Doctors of Washington can be reached at either of its two facilities in Washington, DC and Maryland: 1016 16th Street NW, Lower Level 100, Washington, DC 20036 – (202) 659-2050, toll free (877) SEE WITH LASIK; or 2 Wisconsin Circle, Suites 200 and 230, Chevy Chase, Maryland 20815 – (301) 215-7100.
###