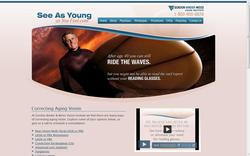 see as young as you feel
San Diego, CA (Vocus) April 23, 2009
The Gordon Binder & Weiss Vision Institute, an eye care practice offering treatment options such as presbyopia correction, implantable contact lenses, and LASIK in San Diego, California, is inviting the community to "see as young as you feel" with a new, state-of-the-art website designed to introduce visitors to its practice in the most technologically advanced way.
http://www.seeasyoungasyoufeel.com is a comprehensive website incorporating internet video, detailed descriptions of the facility and its procedures, and an updated blog.
Working with Rosemont Media, a nationally recognized LASIK and eye care website design firm, the team of ophthalmologists and LASIK surgeons at the Gordon Binder & Weiss Vision Institute have developed a website that primarily uses detailed web video documentaries to provide a virtual tour of the practice and its physicians.
With the new website and innovative tools for people who are considering vision care treatment, Dr. Jack Weiss, one of the facility's LASIK and cataract surgeons, says patients can get a fuller picture of what they offer. "It's definitely an exciting time to be a patient who would contemplate refractive surgery because we have so many options available. And the nice thing is, here at Gordon Binder & Weiss Vision Institute, we have all those options available to you right here."
About the Facility
The Gordon Binder & Weiss Vision Institute is accredited by the Accreditation Association for Ambulatory Health Care (AAAHC), an organization that ensures medical practices adhere to the highest standard of care. The facility has been at the forefront of vision care technology and treatment for many years. Its San Diego laser vision correction surgeons have the distinction of being involved with many major clinical trials that have lead to advances in laser eye surgery technology in use today, and have performed more than 45,000 refractive surgery procedures combined. Dr. Michael Gordon, a founder of the Gordon Binder & Weiss Vision Institute who is recognized as an authority in the field of refractive surgery, says one of the things that makes the facility unique is its full range of treatment options. "We can offer a full range of vision care, from the surgery side: the lens-based surgery; laser-based vision correction; unique needs for some types of glasses, pre-operatively or post-operatively – we have it all here in one facility. We have helped introduce new technology not only to San Diego, but really the world."
Presbyopia Correction Surgery
Doctors at the Gordon Binder & Weiss Vision Institute say that - although they have been leaders in LASIK laser eye surgery procedures to address nearsightedness, farsightedness, and astigmatism in patients who would like to reduce or eliminate their dependence on corrective eyewear - LASIK is just one of many innovative treatments they offer. In addition to conductive keratoplasty (CK), advanced lens implants such as intraocular lenses (IOLs), and PRK Monovision procedures, Gordon Binder & Weiss offers more options for the correction of Presbyopia than any other center in the country. Presbyopia is a condition which affects most people after the age of 40, causing individuals who may never have had vision problems in the past to start losing focus on objects up close, which often necessitates reading glasses for a clearer view. Gordon Binder & Weiss is changing that by offering multiple treatment platforms at their San Diego Presbyopia facility, including lens replacement via implant surgery and Presbyopic Multi-focal LASIK (PML) and PRK, procedures pioneered by the facility's own team of surgeons. The new website incorporates information such as this, along with detailed histories of the surgeons and one-on-one interviews, into their video documentaries so that prospective patients can get a clear introduction to the Gordon Binder & Weiss Vision Institute before even setting foot inside the practice.
The time to educate patients on the revolutionary treatments available to correct vision problems is now. According to Dr. Perry and Dr. Weiss: "There's never been a better time for refractive surgery because we have much safer technology in terms of the intralase, in terms of the wavefront-guided lasers, and in terms of our diagnosis of disease. It's a very exciting time."
For more information, the Gordon Binder & Weiss Vision Institute can be reached at 8910 University Center Lane, Suite 800, San Diego, CA 92122 – (858) 455-6800, or toll free at 1-800-950-6876.
###