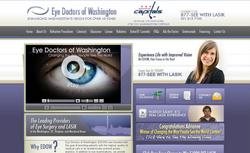 There's another way of seeing people around you. See them as neighbors, and make a little effort to reach out.
Washington, DC (Vocus) July 6, 2009
In tough times, random acts of kindness and gestures of goodwill can go a long way in demonstrating our sense of humanity and compassion toward one another. With that in mind, Eye Doctors of Washington, a large Washington, DC LASIK eye surgery practice decided to sponsor a contest: videotape yourself or someone else spreading a bit of good will, and the winning contestant will receive a free treatment of LASIK to improve their vision and reduce their dependence on corrective eyewear. After posting the finalists for its Changing the Way People See the World contest on its website and inviting the public to vote on the video which people felt best displayed a good deed being performed, DC's own Adrienne Lo was chosen as the winner.
After hearing about the contest through EDOW's website, Adrienne seized the opportunity to get LASIK surgery to correct a lifetime of nearsightedness and a resistance to wearing contact lenses (they made her eyes dry). And through the process of filming the video, Adrienne discovered something about herself, and those in her community. "There's another way of seeing people around you. See them as neighbors, and make a little effort to reach out."
With help from her boyfriend and another good friend, Adrienne set out among the streets of Washington delivering flowers on Mother's Day. Admitting to some trepidation she's had at approaching strangers, Adrienne says the video was a way for her to spread some random kindness as well as feel more comfortable interacting with people whose paths you cross. "I wanted to see if we could view each other as neighbors more than strangers; Mother's Day seemed like a perfect excuse."
After being selected as one of the finalists and being posted on Eye Doctors of Washington's website, the polls opened and Adrienne's video received 476 votes, declaring it the winner. Within a week after her video was chosen, Adrienne was treated to free LASIK surgery and says she now has 20/20 vision.
No longer completely dependent on glasses to see better, Adrienne plans on travelling the world to teach, volunteer and take in a new view of the world… with a changed outlook.
"I smile more around strangers now."
About Eye Doctors of Washington
Eye Doctors of Washington has been in the DC area for more than 40 years. Founded by a group of Georgetown University professors at the Center for Sight, the practice employs some of the nation's top ophthalmologists and LASIK surgeons, and offers advanced treatment for patients suffering from a variety of vision problems. EDOW's Washington, DC LASIK eye surgeons have performed more than 20,000 LASIK procedures between them.
For more information on laser eye surgery in Washington, DC and surrounding areas, Eye Doctors of Washington has two facilities - in Washington, DC and in Maryland. They are located at 1016 16th Street NW, Lower Level 100, Washington, DC 20036 – (202) 659-2050; and 2 Wisconsin Circle, Suites 200 and 230, Chevy Chase, Maryland 20815 – (301) 215-7100 – http://www.edow.com .
###