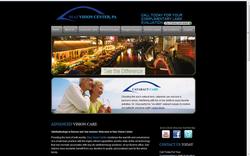 The safety of the procedure has improved as the technology improves and we gain more knowledge. An example is the creation of the flap was previously done with a blade but now can be done with a laser.
Boerne, TX (Vocus) July 10, 2009
Dr. Carlos Diaz is the director of Diaz Vision Center, a Boerne and San Antonio-area LASIK eye surgery and vision care practice. LASIK, or laser-assisted in situ keratomileusis, has helped many individuals the world over eliminate their dependence on glasses and contact lenses and achieve 20/20 vision or better, and the procedure is a popular one. However, some have recently questioned the safety and effectiveness of LASIK, and an FDA panel advised the need to further alert consumers of the possibility of poor visual outcomes, dry eye, and other complications after LASIK surgery. Dr. Diaz says this is why it's important for patients considering LASIK, as with any surgical procedure, to do their own research and address their concerns with their doctor. "Some conditions, which may exclude someone from having LASIK, are dry eyes, since the surgery can make the symptoms worse. Also, patients with thin corneas may not be a candidate since the procedure thins the cornea further, and may cause instability of the cornea. Some patients may also have halos or glare after LASIK if their pupils are larger than the treatment zones. These conditions and others should be screened for during a LASIK evaluation."
LASIK uses laser energy to reshape the cornea and improve the eye's ability to focus. It's typically performed on patients who wish to correct common refractive errors such as nearsightedness, farsightedness, and astigmatism. Dr. Diaz says patients who are considering the surgery to achieve better vision without the aid of corrective eyewear are rigorously screened and evaluated before the procedure to determine if they are candidates, and for those who are not, he discusses alternatives that they may qualify for, such as PRK surgery or other vision care options.
For LASIK procedures, Dr. Diaz says he uses only the most state-of-the-art lasers, such as Ziemer and Allegretto, and takes every precaution for safety during the procedure, with a major focus on preventing any complications that may arise during recovery. He says technological advances since the advent of LASIK in the early 1990's has come a long way. "The safety of the procedure has improved as the technology improves and we gain more knowledge. An example is the creation of the flap was previously done with a blade but now can be done with a laser." That particular method is known as one of the safest LASIK techniques available, using a 100% blade-free approach to creating the corneal flap to provide the most precise and accurate procedure possible.
Although LASIK a large part of Dr. Diaz' Boerne and San Antonio laser vision correction practice, he offers ophthalmology services to correct a number of conditions that can help people who are not LASIK candidates, or those who need other types of vision care. For example, those who are candidates for IOLs in San Antonio and Boerne, Texas can gain much better eyesight even when they have suffered from conditions such as presbyopia, cataracts, and eye injury. IOLs are advanced intraocular lens implants that act as replacements for the eye's natural crystalline lens. The artificial lenses are permanent, and can offer significant vision improvement after cataract surgery, or for patients who suffer from presbyopia and do not wish to wear reading glasses to clearly see objects and print at close distances. Dr. Diaz says because such a wide range of people qualify as candidates for IOLs, the procedure is now one of the most popular in America.
Dr. Diaz says, overall, whatever procedure patients are considering, the most important thing is to address all of their questions with their surgeon, and be completely honest about their medical histories and concerns they may have. Many eye conditions are treatable, and those who are not candidates for one procedure can likely benefit from an alternative option that can yield similar results.
About Carlos Diaz, MD
Dr. Carlos Diaz is a board-certified ophthalmologist and San Antonio laser eye surgeon. Dr. Diaz is a member of the American Academy of Ophthalmology, the American Medical Association, and the Texas Medical Association. He has coauthored a variety of publications with many noted ophthalmologists, and offers procedures to correct and treat a number of different eye conditions, including glaucoma, macular degeneration, and cataracts. The Diaz Vision Center serves residents of Boerne, San Antonio, and surrounding regions in Texas.
For more information on procedures available at the Diaz Vision Center, Dr. Carlos Diaz can be reached at 124 E Bandera Rd, #404, Boerne, Texas 78006 – (830) 249-8400; or via his website at http://www.diazvisioncenter.com.
###