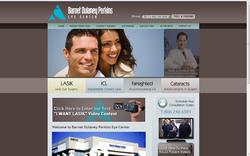 Phoenix, AZ (Vocus) August 24, 2009
What exactly would you do to receive clear vision? Some of the top Phoenix, Arizona LASIK surgeons want to know, and they are prepared to offer a big reward for creativity. Barnet Dulaney Perkins Eye Center in the Phoenix and Scottsdale area are sponsoring a new contest called 'I Want LASIK'. The contest is aimed at people who currently rely on glasses or contact lenses to see more clearly. The prize-winner receives a free LASIK vision correction procedure designed to significantly improve their vision.
Contestants are asked to videotape themselves describing, performing, or demonstrating their need for clear vision and share the video with the Barnet Dulaney Perkins Eye Center. Entries can be submitted between now and September 13th, and all participants who submit videos will receive $1000 off LASIK. Contestants who are members of KTAR Rewards, All Star Rewards, or PEAK Rewards will receive 10,000 points for their video submission.
The videos will be uploaded to the Barnet Dulaney Perkins Eye Center's Facebook and YouTube pages, where participants in the 'I Want LASIK' contest can keep track of other submissions as well as their own. On September 17th, the top three videos will be selected by the practice and announced on their website and Facebook page. After that, the public will get the chance to vote on their favorite entries and the video with the most votes will win a free LASIK procedure. Winners will be announced on Monday, October 5th, 2009.
LASIK is a surgical vision correction procedure using laser energy to reshape the cornea. The procedure is designed to improve vision in those who suffer from refractive errors such as nearsightedness, farsightedness, and astigmatism. LASIK procedures can often result in patients having dramatically improved vision without the need to wear glasses or contact lenses.
With the 'I Want LASIK' contest, Barnet Dulaney Perkins Eye Center asks you to be creative and remember that videos will be voted on by the public, so be ready to impress! The one who ultimately wins people over may end up with a much clearer view of the world.
About Barnet Dulaney Perkins Eye Center
Barnet Dulaney Perkins Eye Center was the first clinic to perform LASIK in Arizona. The practice has been offering state-of-the-art vision care in the Phoenix and Scottsdale, Arizona area for more than 30 years. Barnet Dulaney Perkins Eye Center is known across the globe for its educational outreach and research, and has been part of a number of clinical trials that have ultimately led to groundbreaking innovations and techniques in vision care. More than 20 eye surgeons, ophthalmologists, and optometrists are part of Barnet Dulaney Perkins Eye Center, providing a number of advanced treatments from slight cases of nearsightedness to debilitating eye conditions such as glaucoma and cataracts. The practice operates facilitates all over Arizona with offices in Phoenix, Flagstaff, Tucson, Mesa, Chandler, Sun City, Surprise, and other areas.
For more information on the ***this link will change once the page has gone live***'I Want LASIK' contest, the main offices of Barnet Dulaney Perkins Eye Center can be reached at 4800 North 22nd Street, Phoenix, Arizona, 85016 - (866) 742-6581. http://www.goodeyes.com.
###