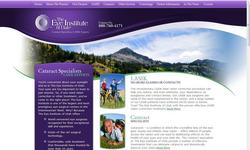 Washington, D.C. (Vocus) August 31, 2009
The Eye Institute, offering LASIK in Salt Lake City, Utah as well as management of cataracts and other general eye care procedures in Rock Springs, Wyoming, has been selected for the 2009 Best of Rock Springs Award in the Physicians & Surgeons category by the U.S. Commerce Association (USCA).
The USCA "Best of Local Business" Award Program recognizes outstanding local businesses throughout the country. Each year, the USCA identifies companies that they believe have achieved exceptional marketing success in their local community and business category. These are local companies that enhance the positive image of small business through service to their customers and community.
Various sources of information were gathered and analyzed to choose the winners in each category. The 2009 USCA Award Program focused on quality, not quantity. Winners are determined based on the information gathered both internally by the USCA and data provided by third parties.
The Eye Institute in Wyoming is a satellite office of The Eye Institute of Utah, offering a full range of general vision care needs. The Rock Springs, Wyoming facility has been headed by Dr. Randy Fuja since 1994.
About The Eye Institute
Nearly 30 years ago, Dr. W. Andrew Lyle formed The Eye Institute of Utah. The Eye Institute of Utah is a 30,000 square foot facility and serves as a comprehensive, fully functional eye care and treatment center. The Eye Institute is equipped with an outpatient ambulatory surgical center with four operating rooms, as well as an operation viewing area. The practice operates a full-service clinic and a research facility concentrating on studies of lasers and lens-based refractive surgery and an array of technologies designed to improve patient care. The Eye Institute of Utah specializes in cataract intraocular lens (IOL) implant surgery, cosmetic surgery and refractive surgeries including LASIK and refractive lens procedures (using ReSTOR®, Crystalens®, and Visian™ ICL). The Eye Institute of Utah also cares for and treats general ophthalmology needs including glaucoma, dry eye, retina and macular degeneration, and corneal transplantation. In addition, the practice employs some of the most experienced and respected ophthalmologists and LASIK surgeons in Salt Lake City, Utah and the Intermountain west. The Eye Institute also maintains a satellite office in Rock Springs, Wyoming, capable of helping patients with a variety of general eye care treatments.
About U.S. Commerce Association (USCA)
U.S. Commerce Association (USCA) is a Washington D.C. based organization funded by local businesses operating in towns, large and small, across America. The purpose of USCA is to promote local business through public relations, marketing and advertising.
The USCA was established to recognize the best of local businesses in their community. Our organization works exclusively with local business owners, trade groups, professional associations, chambers of commerce and other business advertising and marketing groups. Our mission is to be an advocate for small and medium size businesses and business entrepreneurs across America.
For more information on The Eye Institute and the procedures they offer, including LASIK, eye disease treatment, cataract surgery, and general vision care in Salt Lake City, Utah, the practice can be reached at 755 East 3900 South, Salt Lake City, UT 84107 – (800) 760-4171; or at its Wyoming location at 2631 Foothill Blvd., Suite A, Rock Springs, WY 82901 – (800) 360-3937. http://www.theeyeinstitute.com.
Portions of this story were provided by the U.S. Commerce Association.
###