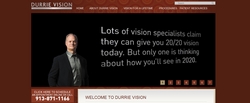 The good news is that same patient can return to us and we can reevaluate their current vision.
Leawood, KS (Vocus) June 25, 2010
A Kansas City Lasik surgeon is taking on a number of myths regarding laser vision correction surgery. Dr. Daniel S. Durrie has more than30 years of experience with refractive and corneal surgery, and says he has dedicated his career to being a pioneer in procedures to correct nearsightedness, farsightedness, astigmatism, and presbyopia. Dr. Durrie says his passion in the eye surgery field is research, which is why he believes it is necessary to address the current state of the Lasik procedure and other eye surgeries to confront common myths surrounding laser vision correction.
Dr. Durrie and his staff of qualified eye surgeons specialize in laser vision correction in Kansas City, and frequently run into a number of myths regarding general information and statistics concerning the eye surgery field, common procedures, and recovery time. Dr. Durrie says one widely held belief is that Lasik eye surgery is painful. However, because anesthetic eye drops numb a patient's eyes, Dr. Durrie says a patient is more likely to feel pressure instead of pain, causing only mild discomfort during the procedure.
Another common myth is that Lasik surgery is not "real" surgery. According to Dr. Durrie, while the overall risks are extremely low, he emphasizes that risks do exist with Lasik, as with any surgery. However, vision-reducing complications have been documented in less than 1% of the procedures performed in clinical studies since Lasik was first performed.
The Kansas City eye doctors at Durrie vision also addressed several myths concerning recovery time needed with the Lasik procedure, including the need for eyeglasses or contact lenses following the surgery. With regards to recovery time, Dr. Durrie and his staff say most patients are able to return to their normal routine the day after the procedure is performed. As for the need for eyeglasses or contact lenses, Dr. Durrie says the Lasik surgery permanently changes the shape of the cornea, therefore will not "wear off." However, he says the lens of the eye continues to age, which can lead to the need for eyeglasses later in life. "The good news is that same patient can return to us and we can reevaluate their current vision." With the help of the doctors at Durrie Vision, Dr. Durrie says all patients should feel comfortable with the goals and expectations surrounding their Lasik procedure.
Dr. Durrie also feels that there are several misconceptions concerning the role both the laser system and participating doctor play in the overall procedure. He says that while the eye is typically prone to involuntary movement, the laser is equipped with a tracking system to ensure the accuracy and successful outcome of the procedure. However, despite the capabilities of the laser vision correction system, Dr. Durrie says the patient's choice for eye surgeons is a decision that will affect the way they see for the rest of their life, adding that only qualified surgeons should be considered when making that choice.
The Durrie Vision Laser eye surgeons in Kansas City say they are dedicated to providing excellent patient care, and in their view, patients always come first. Dr. Durrie says he has focused his efforts on providing innovative, advanced eye care backed by passionate research, which is why when his patients ask him about the long-term effects of Lasik and other vision correction procedures, Dr. Durrie believes he can confidently state that throughout the more than 20 years since the first Lasik procedure was performed, no long-term ill-effects have been reported.
About Dr. Durrie
Dr. Durrie received his medical degree and completed his residency at the University of Nebraska, where he graduated with distinction. He later completed a Corneal Fellowship with Filkins Eye Institute in Omaha, Nebraska. Dr. Durrie is a board-certified ophthalmologist and serves as a clinical professor and Director of Refractive Surgery Services at the University of Kansas Medical Center. He has performed over 40,000 refractive procedures in his career and continues to support that career with research and pursuit of the latest technological advances in laser vision correction. His dedication to research is demonstrated with the performance of FDA clinical trials at Durrie Vision.
Dr. Durrie has written a number of scientific articles and papers that have appeared in hundreds of professional medical publications. He is a member of the American Academy of Ophthalmology, the American Society of Cataract and Refractive Surgery, the American Medical Association, the Kansas State Ophthalmological Society, and many other prestigious boards and societies.
Dr. Durrie and his Durrie Vision laser correction surgery center are located at 5520 College Blvd. Ste. 201, Overland Park, KS 66211, and can be reached at (913) 871-1166 or http://www.durrievision.com/
###