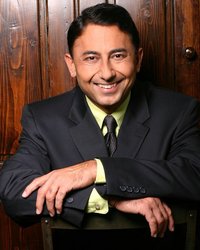 I was impressed by his humility and infectious smile when we were at the bowling lanes
Westlake Village, CA (Vocus) March 3, 2009
Khanna Institute of LASIK is the official LASIK Center of the LA Galaxy Soccer team. David Beckham is currently the captain of this team. Khanna Institute has been proud to support the legendary soccer player and his leadership. Dr. Khanna was very impressed with the energy Beckham brought to the team on the field and the passion he ignited amongst the fans. David Beckham and Dr. Khanna got along well.
"I was impressed by his humility and infectious smile when we were at the bowling lanes," says Dr. Khanna. The passion of Beckham on the soccer field, is matched by the passion that Dr. Khanna displays during his surgeries - LASIK or PRELEX.
As a wise man once said - "If you love something set it free - if it comes back to you, it is yours otherwise it was never meant to be."
Khanna Institute hopes that Beckham will continue to bend it into the goals. Khanna will cheer him on in AC Milan and following that, for England in the 2010 soccer World Cup.
Our heart still beats with the hopes that he will return and lead the Galaxy to the MLS Cup.
Khanna Institute wishes him and AC Milan good luck.
About Khanna Institute of Lasik Surgery:
The Khanna Institute of Lasik Surgery provides the latest technology in vision correction, tailored to each individual depending on their level of astigmatism, nearsightedness, farsightedness and presbyopia. The Khanna Institute of LASIK and Refractive Surgery has multiple offices conveniently located in Valencia, Westlake Village, Costa Mesa, Beverly Hills, and Corona. Rajesh Khanna, MD is the Medical Director of the Institute. Dr. Khanna is a Board Certified Ophthalmologist, and has been fellowship trained in LASIK, Cataract and Corneal Surgery. He is in the forefront of Wavefront LASIK surgery, Presbyopic Implants such as RESTOR Aspheric Multifocal and Crystalens HD. Dr. Khanna has performed over 10,000 vision correction surgeries. The Khanna Institute provides vision care to people from all over the world.
Contact:
Kelly Schneider
Rajesh Khanna, MD
Khanna Institute of Lasik Surgery
1220 La Venta Dr #209 Westlake Village 91361 Phone: 805-230-2126
Fax: 805-230-2199
http://www.khannainstitute.com
lasik @ khannainstitute.com
###