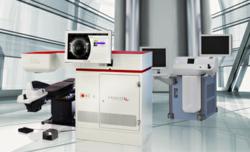 The addition of the Catalys laser will position Hoopes Vision as one of the premier destinations for custom laser cataract surgery in the world.
Salt Lake City, Utah (PRWEB) August 07, 2012
Hoopes Vision, a premier ophthalmology practice committed to providing the latest technological advancements to patients, has announced the availability of an exciting new treatment option for people with cataracts. On July 3, 2012, the practice purchased and installed the Catalys™ Precision Laser System from OptiMedica, introducing the world's most sophisticated laser cataract surgery system to Utah. Hoopes Vision, which also offers cataract surgery with the Alcon LenSx laser system it acquired in October 2011, is now the first practice in the world to offer multiple laser cataract platforms. The distinction enables the practice to offer patients an unparalleled level of customization in cataract surgery.
Having multiple laser platforms available is advantageous for the surgeon as well as the patient. While all human eyes share the same basic anatomical structure, every eye is unique in terms of size, depth, curvature and other key features. By offering both laser cataract technologies, Hoopes Vision surgeons now have a choice of platforms to ensure that every treatment plan is tailored to the specific needs of each patient. In addition, they are able to offer patients a wider range of customization in laser cataract surgery than any other ophthalmology practice in the world.
According to Dr. Phillip C. Hoopes, chief surgeon and chief executive officer of Hoopes Vision, "It was an easy decision to obtain the Catalys Precision Laser System. Our core mission has always been to provide our patients with the best technology to be used by caring, experienced doctors. Our LASIK surgery suite is well known across the country as one of the most technologically advanced. The addition of the Catalys laser will position Hoopes Vision as one of the premier destinations for cataract surgery in the world."
Catalys features a state-of-the-art laser, advanced 3D imaging, sophisticated software and other unique features that enable surgeons to provide patients a gentle, highly customized procedure with unparalleled precision. Using Catalys, Hoopes Vision's surgeons can access and remove the cataractous lens with accuracy that is approximately ten times greater than that achieved with manual technique. 1,2
In addition to its accuracy benefits, Catalys' sophisticated laser technology makes break-up and removal of the cataract easier and gentler on the patient.3 A clinical study has shown that Catalys reduces the amount of ultrasound energy needed during this step by approximately 96 percent, an improvement that may enhance procedure safety.3 Laser treatment with Catalys takes approximately three minutes and causes little or no discomfort to patients
.
The precision and accuracy of the Catalys laser treatment sets the stage for the positioning of the artificial replacement lens. Proper positioning is especially important with advanced technology lenses that are designed to enable both near and far vision without contacts or glasses, including reading glasses. These lenses demand a level of precision, accuracy and customization that traditional manual surgery struggles to provide.
"The new Catalys system is the perfect addition to Hoopes Visions' state-of-the-art facility in the Salt Lake City area. Its sophisticated technology provides accuracy benefits and an exceptional experience for patients," said Dr. Hoopes. "Patients who choose to have surgery at Hoopes Vision can be confident they are receiving the highest level of customization and the most advanced technology available."
Millions of people suffer from cataracts, an age-related condition in which the eye's lens becomes clouded, making vision fuzzy or filmy and normal daily activities more difficult. Once a cataract has developed, the only way to improve vision is through surgery to remove the cataractous lens and replace it with an artificial lens. This is why cataract removal is one of the most common procedures worldwide, estimated at 19 million cases each year. Incorporating laser technology into cataract surgery procedures has revolutionized the way this vision problem is treated by dramatically improving the level of accuracy and precision.
The Catalys Precision Laser System was developed by OptiMedica Corp. (Sunnyvale, Calif.) in close collaboration with a Medical Advisory Board of cataract experts from around the world. Catalys was CE mark approved in August 2011 and market cleared by the U.S. Food and Drug Administration in December 2011. The system is available at leading ophthalmology practices around the world.
For more information, please visit http://www.hoopesvision.com or call (801)568-0200 to schedule a comprehensive cataract evaluation.
About Hoopes Vision
Hoopes Vision is one of the premiere vision correction facilities in the United States. Their state-of-the-art LASIK, refractive, and cataract eye surgery facilities in the Salt Lake City, Utah are among the most technologically advanced in the country. Their LASIK suite features four unique vision correction lasers on-site, and their state-licensed, Medicare approved Ambulatory Surgical Center is the first in the world to offer multiple laser cataract platforms.
References
1 Friedman, NJ, et al., "Femtosecond Laser Capsulotomy," Journal of Cataract & Refractive Surgery, 2011 July; 37(7): 1189-1198
2 Palanker, D., et al., "Femtosecond Laser-Assisted Cataract Surgery with Integrated Optical Coherence Tomography," Science Translational Medicine, Vol 2 Issue 58: 1-9 (2010)
3 Dick, B. "The synergy of MICS and femtosecond lasers: the future of small incision cataract surgery," Ophthalmology Times Europe, 2012 April; Vol 8 Issue 3
MEDIA CONTACT/HOOPES VISION MEDIA CONTACT/OPTIMEDICA
Tom N. Laura Nobles
(801) 568-0200 (310) 795-0497
tomn(at)hoopesvision(dot)com laura(at)noblescommunications(dot)com