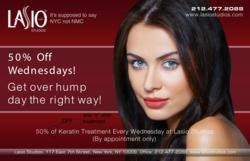 New York City, NY (PRWEB) March 07, 2012
LASIO, ® Inc., a professional hair care conglomerate, will be offering 50% off LASIO Keratin Treatment services every Wednesday at their flagship salon LASIO Studios, located in the East Village of New York City.
Alert to the needs of customers, LASIO Studios offers both new and existing customers the opportunity to pamper themselves without breaking the bank. LASIO's keratin treatments work by coating hair strands in keratin; repairing and strengthening the hair. LASIO keratin treatments soften and smooth hair, eliminating 100% of the frizz and transforming hair into luxurious soft manageable locks.
LASIO Studios Keratin Treatment Services Include:
LASIO 4 Day Keratin Treatment 0.02% Formaldehyde $150-$350
LASIO 1 Day Keratin Treatment 0.02% Formaldehyde $375-$500
LASIO Keratin Tropic Formaldehyde-free $250
*Keratin treatments include complimentary trim.
To book an appointment:
LASIO Studios
117 East 7th Street
New York, NY 10009
212-477-2088
About LASIO Studios
LASIO® Studios is the New York City based flagship salon of LASIO, Inc. Deeply rooted in the ideal that beauty is individual, our team of stylists tailor services and products catered to individual needs. Not only can you have our signature LASIO keratin treatments performed by a team led by the pioneer of keratin treatments, but also have color, cuts, makeovers, up-dos, and bridal services performed by some of New York City's most elite stylists.
About LASIO Inc.
Since 2000, Lasio has stood at the apex of revolutionary hair care. At the core of each of our unique reparative hair products is keratin, a naturally created miracle protein capable of restoring strength and shine to even the most processed hair. LASIO, Inc. has continued to grow and excel as a brand committed to providing salons with products and tools that allow them to compete in an increasingly innovative industry.