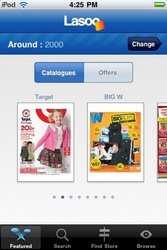 Over 30,000 downloads have been received to date for the Lasoo iPhone app, proving its usefulness to the avid Australian retail shopper.
(PRWEB) May 18, 2010
Since launching in September 2009, the Lasoo iPhone App has proved consistently popular with Australian shoppers, maintaining a strong presence in the top 50 listing of the Apple App Store Lifestyle category. Over 30,000 downloads have been received to date for the app, proving its usefulness to the avid Australian retail shopper. This is further emphasised by the PC Authority June 2010 edition; the Lasoo iPhone App was awarded 85th position in the 100 Essential Apps feature and was the only shopping comparison tool to appear on this definitive list. Users mainly access the app to search for electronics and technology products.
The most popular shopping searches for April 2010 were:
1. Laptop
2. Mobile Phone
3. Wii
4. Furniture
5. iPad
6. Groceries
7. iPod Touch
8. Huggies
9. Shopping
10. Harris Scarfe
The Lasoo iPhone App makes use of the phone's integrated GPS functionality to allow users to search across retail products or browse catalogues that are available in whatever area they happen to be. Once the user has found an offer they're interested in, the Lasoo Store Locator uses the iPhone's GPS to direct them to the nearest shop, complete with a map, contact details and opening hours. Users can search across offers from Australia's leading retailers, including Target, BIG W, Coles, Harris Scarfe, Myer, Toys R Us, Aldi, Officeworks, Borders, Fantastic Furniture, Priceline and more.
According to the Lasoo general manager of products and marketing, Matthew Mason "The fact that the Lasoo iPhone App has been downloaded thousands of times in the last six months really demonstrates how popular the iPhone is with Australians. We plan to keep developing and improving the app in response to demand from our users, and to benefit our retailers in presenting their offers in this ever-changing mobile environment."
Building on the success of the Lasoo Pre-Shop® iPhone app, at the end of May when the new Apple iPad goes on sale in Australia, Salmat's Lasoo iPad application will be available enabling hundreds of retail catalogues to be viewed and searched on this exciting new device. The Lasoo iPad App offers all the functionality of the existing Lasoo iPhone App, but has been optimised for the device's high-resolution screen and for multi-orientation viewing.
The Lasoo iPhone App is available as a free download from the Apple iTunes App Store.
# # #