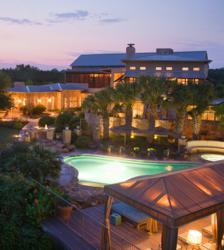 Austin, Texas (PRWEB) October 18, 2012
With a score of 88.16 Lake Austin Spa Resort claims the #10 position as one of the World's Best Destination Spas for 2012, as featured in the October 2012 issue of Travel + Leisure magazine.
Click here for the 2012 World's Best Awards Results:
With a colorful history dating back to the 1940's, memories of the Sunshine Nudist Camp and the Bermuda Inn are fading fast. The lakefront 40-room resort has been earning national acclaim over the last fifteen years since the current owners purchased the property. When the 25,000-square foot LakeHouse Spa was completed in 2004, the resort was recognized on the World's Best Spas for 2005 and has continued to score high marks from readers of Travel + Leisure magazine ever since.
ABOUT LAKE AUSTIN SPA RESORT
Nestled along the shores of scenic Lake Austin in the beautiful Texas Hill Country, Lake Austin Spa Resort offers guests the sanctuary of a world-class spa and the warmth of a best friend's lake house. Lake Austin Spa Resort offers all-inclusive vacation packages, which include accommodations in one of 40 charming lakeside guest rooms, three gourmet meals daily, indoor and outdoor fitness activities and classes, and a selection of spa and body treatments.
The resort has received numerous awards from prestigious national travel and spa magazines since its multi-million dollar renovation and expansion in 2004. Condé Nast Traveler, Travel + Leisure, Allure, the Zagat Survey, Health, Garden Design, SpaFinder Lifestyle, Spa Magazine and American Airlines' Celebrated Living magazine have recently honored Lake Austin Spa Resort as one of the best in the country and in the world.
For additional information and reservations, call 800-847-5637, or visit http://www.lakeaustin.com.