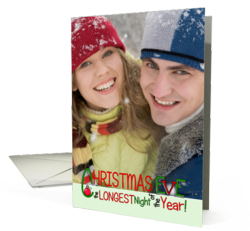 Consumers do not hesitate to shop online. However when it gets down to the wire delivery time becomes an issue and is made worse by the sting of excessive expedited shipping charges
San Francisco, CA (PRWEB) December 19, 2012
Greeting Card Universe, the world's largest greeting card store, announces its popular collection of 68,000+ original and uncommon holiday cards in 124 categories. Coupled with its fast and convenient in-store pickup service Greeting Card Universe is delighting last minute holiday photo card shoppers.
"For most people, this is the busiest time of the year," says Mindy Rosso-Gaemi, Community Manager at Greeting Card Universe. "We all have to-do lists that go beyond naughty or nice. Decorations, tree, wrapping paper and ribbons, lots of gifts, baking, parties to host and attend … and Christmas cards, of course. Americans send 1.5 billion Christmas cards each year to friends, loved ones, colleagues, and other people in their lives."
Post offices feel the crunch too. Of all the different types of cards sent during the calendar year, 45% are Christmas cards, including the 600,000+ cards sent to Santa's address in Finland, as well as cards sent overseas.
"The busier we are during the holiday season, the more likely we are to forget that vital item or worse, that special person. Shops are crowded, making shopping stressful, especially last minute," says Rosso-Gaemi. "Consumers do not hesitate to go online to make their purchases. However when it gets down to the wire delivery time can be an issue - either not an option or made worse by the sting of excessive expedited shipping charges. Greeting Card Universe's service through Target offers the best of both worlds: the ability to create your Christmas cards online at Greeting Card Universe and pick them up, in as little as one hour, at most Target stores nationwide, all without sacrificing personalization and without paying an arm and a leg for expedited shipping. Now that's what I call a miracle!"
Shoppers can add a personal touch while enjoying the ease of ordering from home. Custom greeting cards can also be created within 48 hours at no additional cost by requesting changes or a totally new design from our artist community of over 5,600 freelance artists from around the world.
Greeting Card Universe's traditional and niche offerings of over 578,000 cards gives nod to the importance of choice and personalization in today's marketplace and stays true to its tagline "any card imaginable" … even at the last minute.
About Greeting Card Universe
Greeting Card Universe (http://www.greetingcarduniverse.com) is a division of BigDates Solutions, a private company that provides consumers with unique, personalized services for any holiday or occasion. Greeting Card Universe is the world's largest paper greeting card store, offering an unlimited selection of custom greeting cards, birthday greeting cards, photo cards, invitations, and note cards. BigDates Solutions is the leading provider of Online Reminder Service Solutions, powering gift-reminder services, including 1800Flowers.com and FTD.com. The company is also the owner of Birthday Calendar, a Facebook application with over 42 million installs. Explore more uncommon holidays and occasions on the Greeting Card Universe BLOG.