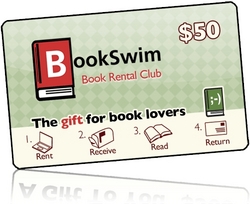 ...shoppers don't want to spend $25 on one hardcover when they could give readers five or more book rentals with a $25 BookSwim gift card.
New York (PRWEB) December 11, 2009
BookSwim, America's "Netflix-style" rental book club, has partnered with the affiliate network Commission Junction, to help web publishers and bloggers earn 30% commissions on every last-minute Christmas and holiday gift card referral.
"This Christmas Season, holiday shoppers don't want to spend $25 on one hardcover when they could give readers five or more book rentals with a $25 BookSwim gift card," said Jeevan Padiyar, CEO of Bookswim.
"The struggling publishing industry has been hit by consumer demand for lower-price media, started by iTunes and the 99-cent iPhone Apps trend," continues Padiyar. "Amazon Kindle ebooks and the Barnes & Noble Nook e-reader device promise savings, but BookSwim is leading the growing book rental industry. We had an incredible 500% growth in BookSwim membership after our 2008 holiday gift card redemptions."
"The landscape of blogging has changed as well," said BookSwim Co-Founder and CMO George Burke. "Affiliate marketing programs, like Amazon Associates, are the new wave of direct sales. BookSwim is making it easy for anyone with access to a readership base, from professional writers to bloggers, and even Twitter or Facebook users, to earn some revenue."
BookSwim invites bloggers to share in the company's financial success during its busiest month. Bloggers can promote through web posts, articles, product reviews, holiday gift guides, RSS and news feeds, email marketing, blog commenting, podcasts, YouTube vlogs, tweets, and social media profiles.
CJ affiliates can get started earning eGift Card commissions at: http://www.bookswim.com/cj.
Affiliates can expect these resources and payouts:

15%-30% commission on gift cards.
Easy, immediate integration for same-day campaign launch.
Book rental catalog access (as a product data feed).
Professional and regularly updated ad banners and text link "creatives."
Customized $10 off promo coupon codes.
Unlike the typical gift card, BookSwim makes an intelligent gift:

BookSwim plants a tree for every gift card purchased to offset the paper used to produce new books.
Earn $50 Restaurant.com certificates on eligible purchases
Books are delivered to the home and returned via postal mail, so there's no need to leave the house.
For the non tech-savvy, a BookSwim account can be managed by the gift giver.
Renting books is environmentally-friendly because fewer books are needed and fewer trees are consumed. And it saves gas, with no trips to the bookstore or library.
About BookSwim Corporation
Launched in May 2007, Newark, NJ-based BookSwim is the only online paperback and hardcover book rental library cub to subscribers through free round-trip shipping, no due dates or late fees, and unlimited rentals. With nationwide coverage, BookSwim rents hardcover new releases, paperback classics and everything in between. Subscription plans start at $9.95 per month, with an option for members to keep the books they love.
# # #