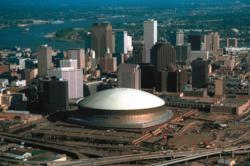 QueenBeeTickets.com still has 200+ Super Bowl tickets available for tonight's big game. Online shoppers are invited to secure last minute seating at fair prices now.
Germantown, Wisconsin (PRWEB) February 03, 2013
Fans of either the San Francisco 49ers or the Baltimore Ravens will certainly want affordable Super Bowl tickets so that they can cheer their favorite team on to victory. Even football fans who do not have a favored team playing in the upcoming game will still want to be at the Mercedes-Benz Superdome to experience the most exciting football game of the year. New Orleans will be especially lively now that game time is here.
QueenBeeTickets.com still has over 200 Super Bowl tickets available in its inventory. These tickets have been made available to the general public and have been priced to sell.
If the 49ers are victorious, the team will not only claim the Vince Lombardi Trophy, they will also tie the Pittsburgh Steelers with six Super Bowl wins. Another interesting fact is that the head coaches of the 49ers and the Ravens are brothers. The 49ers are the favored team but, as football fans know only too well, anything can happen during a game, especially when a title is at stake.
Super Bowl ticket sales are high every year for the most challenging event in football, and New Orleans will be hosting the game for the 10th time. It will also be the first time that the game is being held in the Superdome since the facility sustained damages from Hurricane Katrina back in 2005.
As in previous years, there will be television coverage of the game. CBS Network announced that a 30-second advertisement will carry the hefty price tag of $4 million. Fans who obtain Super Bowl XLVII tickets can bypass the television program as they will be viewing the game from the stadium itself.
Super Bowl ticket sales have been impressive at popular ticket reseller QueenBeeTickets.com. Fans wanting to attend the game can obtain last minute tickets at low prices. They will have the opportunity to see all of the football action live and also the thrilling halftime show that Beyonce will perform. The last 200 Super Bowl XLVII tickets in inventory are expected to sell quickly so fans are invited to secure their seats now.