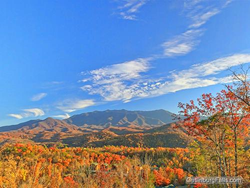 Gatlinburg, TN (PRWEB) October 26, 2016
Venture Resorts (https://www.CabinsOfTheSmokyMountains.com), the largest cabin rental agency in the Smoky Mountains, has announced a special "last minute" sale for Halloween weekend. From October 28-30, guests can save 20% off rates on all remaining one, two and three-bedroom cabins, and 50% off larger cabins.
"This looks like a perfect Fall weekend," says Bill Parris, general manager of Venture Resorts. "We're not far from Halloween, and Fall foliage is near its peak in Gatlinburg."
Besides the fall colors, visitors can enjoy Oktoberfest at Ober Gatlinburg, the Smokies' take on the traditional Bavarian festival. The event features music, German food and imported beers.
In the spirit of Halloween, downtown Gatlinburg is also hosting the Shocktober, a event that promises "strange happenings, coincidences and otherwise unexplained phenomena." Ripley's Haunted Adventure is also hosting its special "Fright Night" this weekend.
"Halloween weekend is always fun in the Smokies," says Parris. "There are so many fun things for families to do."
Guests can learn more about this weekend's events at the Cabins of the Smoky Mountains blog: https://www.cabinsofthesmokymountains.com/blog/
With this weekend's 50% discount on large cabins, a family-friendly five-bedroom cabin like the company's "LeConte View" is available for as little as $160 per night. The same cabin rents for as much as $680 per night during the holiday season.
Venture Resorts offers over 500 rental cabins in and around Gatlinburg and Pigeon Forge, Tennessee.
For more details, visit the company's website at http://www.CabinsOfTheSmokyMountains.com or call (866) 347-6659. Cabin prices vary by cabin based on size, amenities and cabin location. Guests can visit the company's web site to see current rates for all cabins, with this weekend's promotions discounts applied at the time of booking.
The promotion is not available for existing reservations. Discounts do not apply to cleaning, resort and other fees.
About Venture Resorts
Venture Resorts is the largest luxury cabin rental agency in the Smoky Mountains, managing over 500 cabins within minutes of Great Smoky Mountain National Park and family-friendly attractions in Gatlinburg and Pigeon Forge, Tennessee. The company started life as Gatlinburg Falls Resort, but now rents cabins throughout the area.
For more information, call (866) 347-6659 or visit one of the company's web sites https://www.cabinsofthesmokymountains.com or https://www.cabinsofpigeonforge.com.