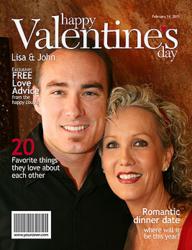 My wife loved it! [...] it was my best such gift ever.
Wilton, CT (PRWEB) February 10, 2012
Valentine's Day can be a harrowing shopping experience for many consumers which is why the shopping is often left to the last minute. Everyone knows they need to get their significant other a special gift but coming up with a unique last minute Valentine's Day gift idea can be a challenge.
The old stand-by's for last minute Valentine's Day gifts are flowers and candy - boring, expensive, short-lived, and definitely not unique.
So what is a last minute shopper to do? The answer, create a personalized Valentine's Day or LOVE Magazine Cover at YourCover. YourCover.com has been offering personalized magazine covers since 2000; originally each one took weeks to create by a graphic artist and copywriter. The redesigned YourCover website now allows consumers to create their own custom magazine covers online instantly and in real time.
At YourCover.com, consumers upload a photo to the online magazine cover editor, then customize all the headlines to be specifically about the life, love, family, friends, relationship and special memories of the person or couple starring on the front cover. A photo file download is priced at only $12.95 and is available instantly on the order confirmation page. The personalized magazine cover can be printed at home or at a local printer and placed in a frame.
This unique Valentine's Day gift can even be made the morning of the 14th and because it so personalized and professionally designed, the recipient will think weeks were spent in planning it when only minutes were needed for its creation and purchase. For those who have a bit more time, YourCover can also print and frame the cover and ship by 2-day or Overnight service.
YourCover customer Ron, of Bedford PA, had this to say about his experience: "My wife loved it! I gave my wife a Valentine's magazine cover on impulse. I was very pleased that she responded by saying that it was my best such gift ever."
Consumers in search of last minute Valentine's Day gift ideas need not despair, there is a solution that will make them look like a hero on the 14th. A YourCover personalized Valentine's Day magazine cover or a LOVE magazine cover is affordable ($12.95), as unique as the person starring on the front cover and instantly delivered, three features any last minute shopper would appreciate.
###