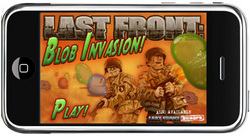 Indianapolis, IN (Vocus) June 8, 2010
Now iPod Touch, iPhone and iPad users have more to worry about than connectivity costs – the Blobs are coming and only you can stop them. Plow Digital gives all courageous, patriotic Apple enthusiasts the chance to take up arms against attackers bent on obliterating the human race in Last Front: Blob Invasion, a fresh new entry in the tower defense game genre.
Fight the Blobs using the seeming endless array of weapons at the disposal of the US Army -- machine gun nests, tanks, howitzers, and snipers. If that's not enough, players can build super cool secret weapons. Make up elaborate mazes to stop the blobs, while the blobs try to bounce on through defenses that seem airtight. Players must defend four vital areas -- Indianapolis, Washington DC, Las Vegas Area 51, and NORAD -- no matter the cost and using the full range of strategies available in this fast-pasted shooter.
Players will enjoy the game again and again. Building unique weapons leads to entirely new challenges against the relentless, fast multiplying menace.
Last Front: Blob Invasion is the second game in Plow Digital's successful series. Last Front: Europe puts players in the middle of World War II, where they can fight as their choice of nationality and on an endless array of user-generated maps. Last Front: Blob Invasion takes the franchise in a new, exiting and oozier direction.
About Plow Games and Plow Digital
Founded in 2007, Plow Games, LLC, is a creative interactive software developer involved in a wide range of projects for its clients, from mobile, computer, console, and online games for consumer, advertising, and educational markets. We have worked with some of the largest game publishers and licensee companies in North America.
Plow Digital creates branded experiences for online and mobile applications. We help people interact with your brand and build an experience for your customer. From hard-hitting microsites to deeper database-enabled websites to mobile applications to mobile games, we use technology to bring your story to life.
For more information:
Greg Phillips
gphillips (at) plowdigital (dot) com
Phone (317) 822-7002 (x105)
###