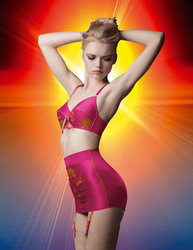 Market Harborough, UK (PRWEB) January 10, 2009
Looking for Last Minute Valentine Gifts to brighten up her Valentine's Day? Made by Niki Lingerie brings you 10 top tips for a successful, sexy Valentine with your loved one.
Don't panic if you've left it Last Minute - Valentine Gifts can still be yours. Made by Niki can offer next day (UK) delivery to your home or office. If you left it too late for that, Made by Niki will add a personal message for you, and have it delivered direct to her place tomorrow.
And guess what? Even if you totally missed Valentine's Day, it's better late than never and you will be forgiven, as long as your Last-Minute Valentine Gift lingerie is extra-generous and wrapped with love. Made by Niki will take care of the wrapping and include your personal message, all you need to do is the choosing.
Choosing last minute lingerie valentine gifts can be stressful, so here are Made by Niki's top tips for buying last minute valentine gifts for your loved ones.
1. Buy Lingerie for Valentines. She puts it on, you take it off - fun for all. Make sure you get her a must-have, hot fashion item. She'll be really impressed when you give her the Pink Satin & Lace Valentine Gift Knickers that all her friends are queuing up for! With Valentine Gifts like this, who cares if it's last minute?
2. If You're Her New Guy - Keep it Simple & Sexy. Get something that's an easy fit, not too showy or complicated... The Pink Satin Valentine Thong is excellent for this - the open back makes it fit many sizes like a dream, and of course you get a cheeky view to boot. She'll forgive you if it's a last minute valentine gift - It's a cute, sexy little token that can't go wrong.
3. Think it through - how do you want to see her in it? Made by Niki's Luxury Valentine Suspender Belt is a true Valentines winner with it's perfect, easy fit, but don't forget the stockings you want to see with it! We recommend true vintage nylons for the best effect. Even if it's last minute, this valentine gift lingerie will not be forgotten in a hurry!
4. If You Want To Buy Her a Bra, Do Your Research: Look in at least 5 of her favourite bras to get an indication of size. For extra bonus points, look in a bra by the same brand you're purchasing, as all brands sizing differs. Made by Niki will let you return and replace bra sizes to ensure a perfect fit. As a lover's gift, Made by Niki recommend the Satin & Lace Valentine's Plunge Bra, it's got a sexy cleavage, the hottest fashion colours for Spring / Summer 2009, a massive size range from AA to G as well as versatile multiway straps so she can wear it with lots of necklines.
5. The Hottest Things Come To Those Who Wait: If you don't mind waiting a few minutes while she wiggles into it, then one of the true wonders of this world is Made by Niki's Valentine Pink Satin Girdle. It's guaranteed to make her look and feel like a super-vixen, and she might never want to take it off, but you'll be guaranteed all sort of forgiveness, even it's a last minute valentine gift.
If you're still in a pickle, check out over 100 other last minute lingerie styles on Made by Niki's Luxury Lingerie & Shapewear Shop
Contact Information:
Niki McMorrough
CEO & Creative Director
+44 (0)7929 785 054
Scott Parker
Wholesale & Brand Director
+44 (0)7817 956 788
Notes to Editor about Made by Niki
Made by Niki is a premium lingerie brand selling in over 100 outlets in 14 countries. Niki is...
Famed for her glamorous approach to lingerie & shapewear, and highly covetable 'Numbered Limited Editions'
Adored by celebrities such as Victoria Beckham and KT Tunstall
Stocked in 100 outlets including Harvey Nichols (TK), Barneys (USA), Figleaves (UK), ASOS.com (UK), Lane Crawford (HK), Fortnum & Mason and others in UK, France, Belgium, Italy, Spain, USA, Canada, Mexico, Iceland, Australia, Netherlands, Hong Kong and more...
Winner of the 2008 East Midlands International Business Award (New Exporter), and a finalist of the UK Fashion Export Award 2008 (Lingerie/Beach) and 2008 CILA Award (Best Shapewear)
Voted 'Best New Talent' at Paris 2008 (Jos Berry) and a top 20 brand by WGSN at Paris 2007
Showcased in exclusive catwalk events: Ultra Lingerie (Paris 2008), Scottish Style Awards (Glasgow 2007). Made by Niki was the only British brand to be invited by the Florence fashion council to participate in the prestigious 'Prima Res' catwalk event (Feb '08) supported by Linea Intima and Toscana d'Amare.
Reviewed extensively in Fashion Media:
Stock up on these 2009 Must-Haves!
OK Magazine
Made by Niki has changed the concept of body-shaping underwear.
Marie Claire Online
For a pert posterior try Made by Niki... A glamorous antidote to shape wear.
The Daily Express
For a high fashion glamorous solution, the new ranges from Made by Nikiâ take shape-wear to a new level.
Underlines
It's the obvious choice for those hankering after the ultimate sexy secretary look.
IMAGE, Ireland
Say goodbye to those Bridget Jones knickers. Hitting the stores is the fabulous Foundation-Wear from Made by Niki. It oozes sex appeal.
Reveal.
###