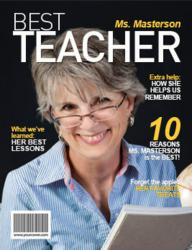 Everyone I've shown it to has asked where I got it. It's so nice to be able to give someone a gift that can be so personalized.
Wilton, CT (PRWEB) December 11, 2012
The personalized magazine covers available at YourCover are a step above generic fake magazine covers and they are the solution for consumers on the hunt for unique last minute gifts for teachers, coaches, a co-worker on anyone on their holiday list.
Several elements of the custom magazine covers make them the perfect answer for a last minute gift hunt. Using the online magazine cover generator at YourCover.com, consumers can:
1) choose from over 80 magazine cover themes for all types of events, holidays, personalities and interests including Best Teacher, Best Coach, Holiday Fun, Hunting, Dance, Music, Cars, Sports, and more
2) completely personalize a magazine cover with the recipient's photo and custom headlines about their life, family, friends, interests, special memories and funny stories.
3) create totally unique last minute gifts in a matter of minutes from the comfort of the shopper's home or office.
4) have the magazine cover delivered instantly upon purchase for self-printing and framing.
5) or if more time is available have YourCover print and frame the personalized magazine covers for delivery.
YourCover was featured on The Today Show in a segment on Best Teacher gifts. Although the gifts were collected for 'end of year' teacher gifts, they are all quite appropriate as holiday gifts. The first gift idea presented to the hosts was a personalized "Best Teacher" magazine cover from YourCover.
The purchase of teacher gifts or coach's gifts can be a difficult process for parents. Many school districts have begun instituting regulations as to the types of acceptable gifts as well as maximum dollar amounts that can be spent on the gifts. A new law instituted in Alabama last year limited teachers to receiving gifts that are of "little intrinsic value." In Massachusetts, public employees may only accept gifts with a value under $50.
In addition, during tough economic times and/or when families may have several school age children, the purchase of one or more gifts can be a financial burden. When asked, many teachers and coaches indicate that a gift is not needed, that an expression of heartfelt thanks perhaps in a card or picture is what is truly valued. For those who would like to express their appreciation to a teacher or coach and to give a gift that will always remind them of that particular class,school year, team or season, YourCover's inexpensive yet highly customized gift, the Best Teacher personalized magazine cover or the Best Coach magazine cover are sure to delight teacher, coach, parent and child.
Whether searching for last minute gifts for a teacher, coach, co-worker, friend or family member, YourCover personalized magazine covers are an affordable, unique and instant solution.