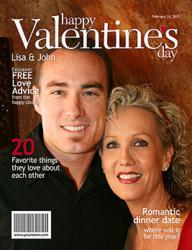 I gave this to my soon to be fiance as a V-Day gift, she absolutely loved it. I framed it and it's now hanging in her house. Very unique, glad I ran across it.
Wilton, CT (PRWEB) February 14, 2013
Most last minute Valentine's Day gifts consist of generic presents that indicate that not a lot of thought or effort went into their purchase. Even though there is virtually no shopping time left, it is still possible to give a completely unique and personalized gift that will have the recipient thinking that hours of effort and planning went into their gift, even though it took only minutes.
YourCover offers two types of personalized magazine covers that are perfect for Valentine's Day, the "Love of My Life" template and the "Valentine's Day" magazine cover template. It only takes a few minutes to make a magazine cover and all that is needed is a good digital photo. After choosing the template at YourCover.com, the consumer uploads their photo and positions it on the magazine cover. There are multiple default headlines on each magazine cover, using the editing tool, the consumer can personalize the text to reflect their sentiments, memories and the name of their Valentine sweetheart. Additional headlines can be added and the text font styles, colors and size can be altered.
Upon completion, the consumer purchases the photo file download of their custom Valentine's Day magazine cover gift. The file can be saved to a computer for printing at home or office or it can be saved and sent to a local photo shop or office supply store for printing. YourCover recommends placing the magazine cover photo print in a frame for the best presentation.
With instant delivery, the YourCover personalized magazine cover is a quick, affordable, and unique last minute Valentine's Day gift that is as unique and special as the sweetheart starring on the front cover.