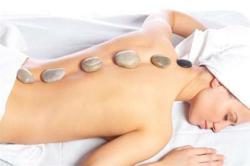 Chris and his team now have the perfect addition their massage stone product line
Mesa, AZ (PRWEB) July 04, 2012
Chris Turley, managing partner of TIR Massage Stone, struggled to know how to overcome the now glaring deficiency he saw within the potential growth of his company. He strongly felt that in order for his stone massage supply company to reach its full potential integrating an education component was essential. TIR Massage Stone needed to become more than just a stone massage supply company; it needed to become the path that a massage therapist passes through on the journey to becoming highly effective professional with hot stone massage.
Mary Nelson, founder of LaStone Therapy, proposed merging LaStone into TIR Massage Stone for education and training purposes. The resulting merger will benefit all aspects of stone massage. TIR Massage Stone now fully manages the operations and marketing of the LaStone Therapy educational classes. Chris and his team now have the perfect addition their massage stone product line, making a complete offering to any massage therapist wanting to become certified as a LaStone therapist, in not only hot stone massage but cold stone massage as well.
Founded in 2005, TIR Massage Stone continues to set the pace and standard for quality in the massage stone industry. Since they began the tradition for excellence required focus on customer needs as well as the processes of consistently producing high quality massage stone. TIR Massage Stone is expert at developing and implementing machinery and processes to efficiently aide in washing, selecting and sorting each stone that makes it into a massage stone set. Specialized equipment and processes deployed for these purposes have further enhanced the ability to deliver consistency in size shape and texture second to none in the Industry.
The marriage of the LaStone methodology with the quality and consistency of the stone products that they offer, positions TIR Massage Stone uniquely in their industry. There is no other company in the industry that is positioned to offer the value in quality and education like TIR Massage Stone can in stone massage. With the addition of LaStone they can go far beyond simply offering a "box of rocks" to massage therapists throughout the world.
For more information about TIR massage at the therapies they support visit the website at: http://www.tirmassagestone.com/. Chris Turley can also be contacted directly at 480-516-4736.