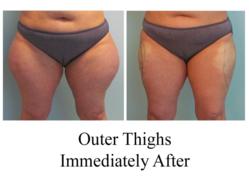 "I can't believe it's only been 2 weeks since my procedure, but now I can fit into my skinny jeans that I have not been able to wear for 5 years!" Says Jan T. of Oklahoma City, OK.
Las Vegas, NV (PRWEB) April 02, 2012
Some people just get the short end of the stick when it comes to genetics. Many unfortunate individuals have embarrassing bulges of fat that simply won't go away with diet and exercise. With the latest liposuction techniques these people can bring their body back in to a normal proportion, fit better in their clothes and feel better about themselves. At MyShape Lipo in Las Vegas, their patients have seen some incredible liposuction results that have changed their lives forever. The tumescent technique has revolutionized the industry and allowed for a safer procedure, better results and quicker recovery.
The liposuction specialist at MyShape Lipo has truly mastered the art of body sculpting. With the use of the tumescent technique and minimally invasive micro instruments, their patients achieve consistently smooth dramatic liposuction results. The tumescent technique refers to the practice of injecting numbing fluid into the fat layer which allows the procedure to be done while the patient is awake. To remove the fat, the surgeon uses micro instruments that are only 3mm in diameter. This is significantly smaller than the 10-12mm instruments used in the past with liposuction. While this technique is used by many surgeons, the skill and artistry to achieve smooth, consistent results is what sets the liposuction specialist at MyShape Lipo apart from the rest. The ability to manipulate the fat and contour the body can be difficult, but through unique techniques, the liposuction specialist can improve the the precision and consistency of the liposuction results. Because the procedure can be done while the patient is awake, the need for general anesthesia and all it's risks are eliminated. There is also very little bleeding with this technique, eliminating the need for hospital stays and blood transfusions. With significantly less bleeding, the recovery is much easier and the patients are able to get back to work within 1-3 days.
Using smaller, minimally invasive instruments, allows the surgeon to actually take out more fat and have better control for sculpting of the body. This allows for smoother skin, less lumps, dimples and uneven results. While the techniques are significantly improved from traditional liposuction, this is still an art and requires experience to get consistent results.
"I can't believe it's only been 2 weeks since my procedure, but now I can fit into my skinny jeans that I have not been able to wear for 5 years!" Says Jan T. of Oklahoma City, OK.
Jan had her liposuction procedure of the outer thighs to remove the pockets of fat that make it nearly impossible to buy jeans that fit her right. As you can see from the picture above, which was taken just 5 minutes after her procedure, her outer thighs have simply vanished. One can imagine that Jan was excited with her new body. With such a dramatic change, she could not hold back her tears of excitement. For Jan, the ability to fit into her jeans was life changing. Previously, she would have to get her jeans tailored or buy them significantly bigger to fit her thighs.
Jan is just one example of the unbelievable results that the liposuction specialist at MyShape Lipo has been able to accomplish. To see the photo gallery simply visit the website at http://www.myshapelipo.com.
If you think that liposuction is too expensive, you need to reconsider. At MyShape Lipo it is so simple and affordable that people fly in from around the world for the services of MyShape Lipo. They have made it very easy with their simple "all inclusive" pricing to figure out the cost of liposuction. Their patients stay at a local hotel near their office, who supplies transportation from the airport, and to and from their office, which makes it very easy if one is traveling for their liposuction.
For a complimentary consultation, which can be done over the phone with picture, please call 702-818-5476. Visit them online at http://www.MyShapeLIpo.com.
The liposuction specialist at MyShape Liposculpture Specialists has performed over 6000 liposuction procedure and has achieved consistently smooth dramatic results for their patients. As liposuction specialists, MyShape Lipo attracts patients from as far as New Zealand, New York, Atlanta, Orlando and everywhere in between.