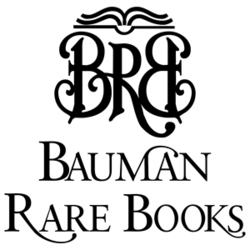 is a conservative market that affords exceptional value. For the price of a painting you can have a library.
Las Vegas, NV (PRWEB) March 6, 2008
Offering an extraordinary selection of rare books and autographs from the 15th through the 20th centuries, Bauman Rare Books, of New York and Philadelphia, has just opened its new gallery in the Shoppes at the Palazzo. Alongside such distinguished retailers as Barney's, Chloé and Christian Louboutin, the world-renowned bookseller will take its place in the stunning 450,000-square foot luxury shopping venue.
The 2300-square-foot gallery will carry many highly valued volumes, including a 1687 edition of Chaucer's Works, a first edition of James Joyce's Ulysses (considered by many to be the most important novel of the 20th-century), a first edition of A Farewell to Arms signed by Hemingway, an exceptional first edition of Twain's classic Huck Finn, and a scarce first edition of Beethoven's magical Fifth Symphony. In addition to books, the Las Vegas rare book gallery will also offer unique documents, such as a lengthy autograph letter signed by President Lincoln and a military document signed by Napoleon as emperor. These are just a few of the treasures that line the shelves.
The company offers books and autographs in a variety of subjects and prices, generally ranging from $500 to $500,000. According to owner David Bauman, rare book collecting "is a conservative market that affords exceptional value. For the price of a painting you can have a library." Milestones of American history and exploration, literary classics, spectacular hand-colored plate books, landmarks in science and medicine, beloved children's classics, fine bindings and leather-bound sets--these are just a few of the subject areas that one can expect to find represented in the company's extensive inventory.
Founded over 30 years ago by David and Natalie Bauman, Bauman Rare Books has built some of the finest collections in the country. With a reputation for meticulous research, an exceptional inventory, and an expert staff, the company offers a full range of client services. In addition to the new store in Las Vegas, Bauman Rare Books has two other locations, a main gallery at 535 Madison Avenue in mid-town Manhattan and offices in center city Philadelphia.
To view hundreds of other landmark books and documents in their extensive inventory, visit http://www.baumanrarebooks.com, call 800-992-2862 to order a catalogue, or stop by the new gallery in the Palazzo.
###