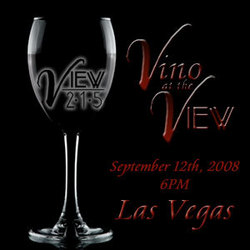 Vino at the View - The Beginning
Las Vegas, NV (PRWEB) August 21, 2008
Newly opened, up-scale corporate events center and banquet hall in Las Vegas, NV, View 215 announces, "Vino at the View - The Beginning" September 12, 2008 at 6 p.m. - the first in a seasonal series of wine tasting events in Las Vegas promoting exquisite flavors from around the world made available to guests for tasting and discounted purchase.
"Vino at the View is the result of years of cultivating relationships with domestic and international vintners and hundreds of wine samples from various parts of the world," explain owners of View 215. "We practically built this beautiful venue just to showcase our wine tasting events."
Vino at the View will be showcasing more than 20 distinct flavors and represented by various international vineyards. Guests will be provided with a wine-inspired selection of Hors D 'Oeuvres, various prizes throughout the evening, and live entertainment provided by Marti Mahoney Entertainment Productions.
About View 215:
View 215 is Las Vegas' newest upscale corporate events center and banquet facility in Las Vegas located directly off of the 215 beltway and Russell Rd. Exit and boasts an unbridled panoramic view of the Las Vegas Strip and surrounding landscape. View 215 offers a plethora of in-house services and event planning for weddings in Las Vegas, corporate events and holiday parties. View 215 will be hosting exclusive upcoming events including "Quick Mix at the View - HighSpeed Business Networking", "Vino at the View - Las Vegas Wine Tasting" and the "View 215 Intimates Series - A Night with an Artist". View 215 is a strong supporter of various charity organizations and will be hosting fundraising events such as the Hadrian Saperstein Benefit and Silent Auction to be held on September 11, 2008.
Contact:
Joe Perez
702-539-2900
zealouspr @ gmail.com
###