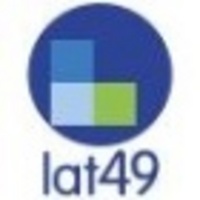 The addition of the MapQuest Gas Portal to our publisher network opens a new opportunity for lat49 advertisers to integrate one of the Web's premier properties into their online campaigns
VANCOUVER, British Columbia (PRWEB) January 7, 2008
Lat49 is an online advertising network that delivers geo-contextually targeted advertisements across a wide variety of online map sites. The lat49 network was developed to take advantage of Ajax and Flash environments and provide a rich, interactive advertising experience.
"This is a great opportunity for advertisers to literally put their brand on a MapQuest map," commented Darren Dickey, Director of Advertising Sales for lat49. "The integration of lat49 on the MapQuest Gas Prices portal allows advertisers to easily reach a user community dedicated to the leading brand in online mapping."
Lat49 ads will be displayed on the MapQuest Gas Prices portal, an information resource that provides consumers with current gas prices at more than 100,000 stations around the country, as well as the location of stations offering diesel and alternative fuels, gas saving tips and more. Utilizing pricing data from Oil Pricing Information Service (OPIS), a leading provider of petroleum spot, rack and retail news and pricing information, which is updated up to seven times per day, the MapQuest Gas Prices site allows users to easily find the lowest priced gas by city, state, zip, or brand and get maps and directions to the stations all in one place. Now, advertisers will be able to target their brands within the Gas Prices map.
"The addition of the MapQuest Gas Portal to our publisher network opens a new opportunity for lat49 advertisers to integrate one of the Web's premier properties into their online campaigns," remarked IDELIX President and COO Keith Ippel. "The patent-pending ad-serving technology that powers lat49 provides advertisers with unprecedented access to the large community of online map users."
About lat49.com
Lat49 (http://www.lat49.com) is an online advertising network that is optimized for interactive maps. The lat49 network of online map properties provides local and brand advertisers with an interactive medium for delivering geo-targeted and contextual display ads to a large, actively engaged user community. For web publishers, lat49 transforms online maps from being cost centers into revenue-generating properties.