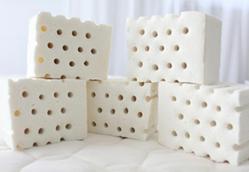 Cupertino, CA (PRWEB) April 30, 2013
Consumers often find latex mattresses a difficult product to research due to the uniqueness of the material, the lack of local availability, and limited information supplied by brands. Mattress Inquirer, a website dedicated to providing readers information on beds, recently produced an article detailing specifications for nearly 20 brands.
The article, "Top Latex Mattress Brands and Type of Latex Used," considers both the type of latex, formulation of the material, types of mattresses offered, retail method, and average rating from reviews for each brand. The guide aims to offer consumers a simple, time-saving reference for comparison and research.
Latex mattress brands identified in the article include, alphabetically: Astrabeds, King Coil, Corsicana, Denver Mattress, Diamond Mattress, Englander, Flobeds, Ikea, Jamison, Kluft, Natura, Nature's Rest, Organipedic, Plush Beds, Restonic, Savvy Rest, Sealy, Simmons and Spring air; 19 in total.
The article explains whether the latex used by each brand is Talalay, Dunlop or both. Formulation refers to what the latex is made of, whether natural, blended or synthetic. For mattress type, the article looked at whether the beds were all-latex or hybrids of latex and springs or other foam. Then, Mattress Inquirer researched how the brand sells their beds (dealers or direct) and compiled a percentage and star rating average based on the retailer websites and third party online sources.
In addition to a brief paragraph introducing each brand, their line, and any transparency issues, Mattress Inquirer also produced a reference table. The chart outlines the five comparison factors for every brand, making it easy for consumers to see which lines match their needs.
Based on their findings, the website observes that all-natural and Talalay latex mattresses tend to receive better overall ratings, while models made with blended latex or hybrid constructions were linked with lower ratings. The comparison's top-rated brand proves Astrabeds, a retailer of 100% natural Talalay latex mattresses, bearing out Mattress Inquirer's observation. Overall, the article offers very useful information for people considering latex beds and can save readers considerable time and effort.
Mattress-Inquirer.com is an informational blog that provides relevant and recent news related to the health, sleep, and mattress industries. In addition to covering new technologies, mattress reviews and opinion pieces, readers enjoy a variety of helpful educational resources designed to aid shopping and sleep quality.