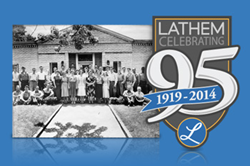 "These systems save businesses time and money when managing hourly workers and preparing for payroll," said Lance Whipple, Sales and Marketing, Lathem
Atlanta, GA (PRWEB) March 24, 2014
Lathem, one of the leading manufacturers of time and attendance solutions for business, has turned 95.
To celebrate, the company has launched a customer appreciation program that makes it easy for small businesses to move from traditional time clocks to automated and cloud-based solutions to increase productivity and streamline the payroll process.
Under the new program, businesses that sign up for an annual subscription to Lathem's cloud-based online time and attendance solution — PayClock Online — can receive a free proximity-badge employee time clock.
Companies that want to automate but aren't ready for the cloud based PayClock Online solution, can receive $95 off the purchase of either the PC600 Smart Touch Screen time clock or the FR650 Face Recognition biometric time clock system when they trade in an older model time clock. Both the model PC600 and model FR650 automated time clocks come standard with Lathem's desktop time and attendance software.
In addition to the sales event, Lathem has launched a newly redesigned company website. The new Lathem.com site is easily viewed on mobile devices and designed so that it's simple for customers to select the right time clock system for their business requirements.
"We've been serving the needs of small business for 95 years, so we wanted to celebrate the occasion with a promotion that recognizes the contribution these small businesses have had on our success. This sales event provides an affordable way to upgrade to the latest technology in employee time and attendance systems. These systems will save businesses time and money when managing hourly workers and preparing for payroll," said Lance Whipple, vice president, Sales and Marketing.
Lathem time clocks are used by hourly workers within companies serving diverse industries, including healthcare, government, education, food service, hospitality and manufacturing. Businesses have relied on Lathem's time clock systems to keep track of employee time and attendance, meet federal and state labor laws, and ensure proper payroll processing.
When Lathem's founder, Louie Lathem, Sr., first began selling time clocks in 1919, he quickly realized that small businesses were valuable to the company's future. Like most salesmen at the time, Louie would travel by train, looking for the telltale smokestacks of a potential new customer. In addition to visiting large factories, he would canvas the surrounding area, knocking on doors and visiting the storefronts of local small businesses. Louie knew that his time clocks were just as beneficial to the small proprietor trying to manage a growing business, as they were to the large factory. After 95 years, this philosophy still guides the company today as Lathem continues to provide small businesses with reliable, high-quality and affordable timekeeping products.
The company remains a family-owned and operated business through four generations, with Bill Lathem serving as president and chief executive officer. Today, it has over 100 employees and more than 1 million small businesses use a Lathem time clock every day – whether mechanical or cloud-based -- to help manage their business.
"What makes Lathem successful is our ability to continually innovate and develop new products that meet the changing needs of our customers," said CEO Bill Lathem. "I am proud to continue the Lathem tradition of producing quality products and solutions that help businesses work better."
These factors distinguish Lathem as a proven and trusted partner for small business time and attendance solutions:

Innovation - industry leading technology and solutions
Singular focus and expertise – focused on time clocks since 1919
Brand of choice - over 1 million small businesses trust Lathem
Customer satisfaction – 95% of customers would recommend Lathem to a friend
About Lathem
Headquartered in Atlanta, Georgia, Lathem is the leading provider of durable and affordable timekeeping products for small business. Founded in 1919, Lathem remains a family-owned and operated US manufacturer. More than 1 million businesses worldwide use a Lathem solution every day to help manage their business, including cloud-based time and attendance systems, wall clocks, and biometric and mechanical time clocks.
Lathem's commitment to high-quality manufacturing and customer satisfaction is reflected through its industry leading 6-point Purchase Assurance Program that provides customers with unique benefits, including free set-up and installation and time clock system trade-ups.
More information can be found online at http://www.lathem.com.