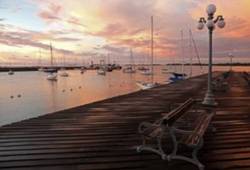 Here in Punta del Este, with a population of only 19,000, we receive over 550,000 visitors per year.
Waterford, Ireland (Vocus) July 27, 2010
Mexico has more visitors and makes more money from tourism per year than any country in Latin America…but in the recently released Latin Tourism Index, Uruguay came out on top as Latin America's tourism champion.
Assembled by the Latin Business Chronicle, the index assesses the total impact of tourism on 15 countries in Latin America by measuring receipts from tourism as a percent of GDP, arrivals per capita, and relative growth in those receipts and arrivals.
In 2009, tourism arrivals per capita equaled 61.4% of Uruguay's population, the highest rate in Latin America.
"No surprise to me," says Lee Harrison, roving Latin American editor for InternationalLiving.com and a resident of Uruguay. "Huge numbers of visitors from Argentina and Brazil vacation in Uruguay for the beaches, the low second-home prices, and the relative safety and stability of the country as a whole. And that's not to mention the Europeans and ever-increasing numbers of North Americans who come to escape the winter. Here in Punta del Este, with a population of only 19,000, we receive over 550,000 visitors per year."
Mexico ranked sixth on the Index, even though it is the undisputed leader in actual number of visitors and amount of receipts. The country received $11.3 billion in tourism receipts last year, but that accounted for only 1.3% of Mexico's GDP.
According to Glynna Prentice, Mexico editor for InternationalLiving.com, the general size and strength of Mexico's economy makes tourism less important in real terms than it is for smaller countries.
"Mexico is the second-largest economy in Latin America," says Prentice. "Tourism is hugely important to the economies of particular places in Mexico. But with sectors like oil, manufacturing, and agriculture also generating huge revenues, even $11.3 billion from tourism amounts to a small part of the total economic pie in Mexico."
The Dominican Republic ranked second on the Latin Tourism Index when arrivals per capita and receipts as percentage of GDP were combined. The DR has the third-highest rate of arrivals per capita and the highest rates of receipts per GDP in Latin America.
Panama, third on the Index, had Latin America's second-highest rate of arrivals per capita in 2009 and the third-highest rate of receipts per GDP.
In growth of arrivals, Colombia took the lead in 2009, with tourism arrivals rising 10.7% to 1.4 million.
"Colombia is the Cinderella story in Latin America right now," says Harrison. "I recently returned from several scouting trips there for International Living. The economy is thriving, the geography is some of the most beautiful in the world, and safety and stability are surprisingly good. The Colombia I saw is nothing like the image many people still have in their minds of a fiefdom of narco warlords. Colombia is shedding that old reputation and taking its place as one of the stars of Latin America."
InternationalLiving.com has been covering Latin America for 30 years as a place for retirees and other expats to live better, healthier lives more affordably than is possible in the U.S., Canada and Europe. With editors and contributors throughout the world, International Living examines the lifestyle, culture, health care options, and economics of living abroad to help readers and subscribers get the best possible quality of life and the most value for their money.
See the full story at http://internationalliving.com/2010/07/26-uruguay-the-new-tourism-leader-in-latin-america/.
For more information:
Dan Prescher
+1 (402) 403-1941
http://www.internationalliving.com
###