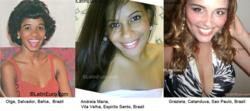 "Faces determine happiness and not written forms"
Miami, FL (PRWEB) June 28, 2011
LatinEuro.com a latin dating and social networking site has a new method to determine who the happiest people on earth are.
It's looking at peoples photos; Not the written forms. Until now most sociologists, psychologists and social researchers have been responsible for rating who the happiest people are.
LatinEuro.com employs a visually-based study combined with other data. 22 years of looking at faces can not lie.
"Mostly we look at faces, and not written forms", according to Vania Santos of Miami-based LatinEuro.com.
"Pictures of people can determine happiness more accurately, because happiness is a subjective, not an analytical human quality. Most researchers and psychologists try to analyze something that cannot be analyzed using a written form. That is why LatinEuro's visually-based study is so unique. A picture is worth a thousand words."
Looking at people's faces, along with questionnaires to hundreds of thousands of people around the globe for more than 22 years has provided enough information to make this claim.
The LatinEuro.com study disputes most of the data that is out there stating that Scandinavian countries are the happiest. Those studies are flawed because they only rely upon people filling out their own written forms. The problem is you don't see many Scandinavians with smiles on their face. The LatinEuro.com study is more accurate, because one can look at pictures of people's faces. A portrait of a human being and the lines and character of their face will tell you more about that person than any written form.
The study is based on tens of thousands of photos of different groups of people around the world that have been submitted over a 22 year period.
OK, who are the Happiest People on Earth?
It's the Brazilians.
Why?
1: Photos of Brazilians have this big grin. It's genuine and true when a Brazilian person looks you right in the eye and smiles, without pretense or judgement. Go there to see for yourself. Their smile will be contagious.
2: Self-Reported Happiness: ask Brazilians to describe themselves, they will say: "Estou feliz" (I'm happy). They say they're happy in personal interviews, phone, snail mail, email since 1989, and surveys they fill out on LatinEuro forms.
3: Years of feedback of what other LatinEuro members around the world have said about Brazilians: "Brazilians are the happiest people". Most studies say that Danish people are the world's happiest. However, Danish men tell LatinEuro that Brazilians are the happiest people in the world, and not the Danish.
4: Family and Friends: Brazilians main concern in life is family and friends. Making money, being successful in business, and and owning material things is secondary. To quote many Brazilians. "I am poor, but happy." Personal relationships with other people ultimately determine the depth of human happiness. Brazilians are one of the most friendly and gregarious people in the world.
5: Environmental Factors. Warm weather can equate to warm people. Most of Brazil is warm, beautiful, with palm trees, sun-drenched beaches, and seductive and exotic nature. Even people who are living in harsh cities like Sao Paulo and Rio de Janeiro can be happy because they can escape their environment and go to the beach, where true Brazilian culture comes alive with Samba, Bossa nova, Capoeira, Maracatu, partying, sun, bikinis, and a culture of the flesh.
6. National Pride: Brazilians love their country and are happy despite pressing social issues like crime and poverty. They have an extreme sense of nationalism, which adds to a being part of the greater Brazilian family, and hence, being connected to one another. The iconic image of Brazil is a girl's bikini. It really should be a girl's smile.
LatinEuro.com has pioneered international dating for the last 22 years and is one of the world's most famous dating sites. Contact Vania Santos at: 1-305-858-7766 or vania(at)latineuro.com,
http://www.LatinEuro.com, 444 Brickell Avenue, Suite 51-517, Miami, Florida 33131 USA.
# # #