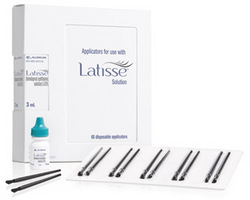 After using the product, my eyelashes really stand out. I get compliments all the time and it feels great! Everyone wants to know my secret. People even ask if I am wearing false eyelashes. I feel more confident knowing this product, unlike other lash growth products on the market, is FDA-approved. I will absolutely tell all of my friends (and anyone who asks) about this new lash growth product
Beverly Hills, CA (PRWEB) February 12, 2009
Latisse™ (bimatoprost-ophthalmic-solution) 0.03%, approved by the U.S. Food and Drug Administration (FDA) in 2008, is a novel treatment for hypotrichosis of the eyelashes. Eyelash hypotrichosis is another name for having inadequate or not enough eyelashes. Prior to its FDA approval, Allergan conducted a 16 week clinical trial with approximately 280 volunteers to assess the safety and efficacy of Latisse™. The results exceeded expectations. Participants experienced lashes 25 percent longer, 106 percent thicker and 18 percent darker.
The story of Latisse unexpectedly began in ophthalmology offices and the treatment of glaucoma patients. A new class of medications known as prostamides had been developed to lower intraocular eye pressure and doctors noticed a surprising side effect: the prostamides also grew hair. Allergan produced Lumigan (the trade name for ophthalmic formulated bimatoprost solution) quickly became the most popular prostamide. Products such as Revitalash and Age Intervention were the first to hit the market. However, because of purported patent infringements, the makers of Age Intervention were forced to cease production. Their replacement product Marini Lash does not contain bimatoprost and as result is considered by many to be less effective than Latisse™.
"After using the product, my eyelashes really stand out. I get compliments all the time and it feels great! Everyone wants to know my secret. People even ask if I am wearing false eyelashes. I feel more confident knowing this product, unlike other lash growth products on the market, is FDA-approved. I will absolutely tell all of my friends (and anyone who asks) about this new lash growth product," states Lisa, an Allergan clinical study test subject.
Available only by prescription, Epione is among the first medical offices to carry Latisse™. According to Epione's Medical Director, Dr. Simon Ourian, users can expect to grow longer, fuller and darker eyelashes in as little as eight weeks, with full results in 16 weeks. To maintain this effect, continued treatment with Latisse™ is required. If use of Latisse™ is discontinued, eyelashes will gradually return to their pre-treatment state over a period of weeks to months (the average eyelash follicle cycle).
"Clinical studies have shown that Latisse™ works well. Virtually everyone who has used it has seen great results. Until now people looking for longer eyelash had to apply cosmetics such as mascara or glue false eyelashes onto their eyelids. Now with Latisse Epione is proud to offer our patients a new option for making their eyelashes longer," says Dr. Ourian.
Dr. Ourian's Epione Medical Corporation, located in Beverly Hills Golden Triangle, is among the most comprehensive and state-of-the-art laser and aesthetic surgery centers. Dr. Ourian has been a pioneer for laser technology and non-invasive aesthetic procedures such as BOTOX®, Restylane, Radiesse and Sculptra. These treatments are used for correction or reversal of a variety of conditions such as acne, acne scars, skin discoloration, wrinkles, stretch marks, varicose veins, unwanted hair, and tattoos, cellulite, and tens of others. For further information please contact 310-271-6506 or visit http://www.epione.com
###