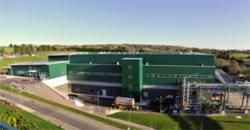 Lilly's CQM program is the best in the world at combining a disciplined quality management approach with technology.
Reston, VA (PRWEB) September 21, 2011
LATISTA Technologies received the FIATECH CETI (Celebration of Engineering & Technology Innovation) Award for Intelligent and Automated Construction Job Site for its work with pharmaceutical giant Eli Lilly & Co. FIATECH, a construction industry owners consortium recognized LATISTA and Lilly's construction quality automation efforts on $400-million bulk manufacturing plant project in Kinsale, Ireland. The mobile and web-based solution, used on tablet PCs in the field, helped the project finish six weeks early and save $4.3 million on rework, a 46% reduction.
Eli Lilly & Co. and other pharmaceutical companies have similar project drivers: quality, cost, risk management, and time to market. In 2005, Lilly examined the impact of construction quality on these drivers and determined that their project teams needed a solution for quality assurance and control (QA/QC) that would help them identify, manage, and correct deficiencies during construction, rather than waiting until the commissioning phase when rework might be necessary. LATISTA web-based and mobile construction quality software was the centerpiece of the rigorous quality program Lilly developed.
Lilly recognized several benefits from implementing a strong, automated continuous quality management (CQM) process, including rework savings of $4.3 million and delivering 6 weeks ahead of schedule. Contractors addressed rework instead of Lilly and corrected issues well before facility operations began. The project finished under budget on commissioning and qualification delivery and overall cost, and all punchlist items were closed before the final turnover to owner. Overall, the strong C&Q and continuous quality management programs resulted in a faster, less-costly project.
LATISTA Executive Vice President Chris Ramsey said, "We are honored to receive this award. FIATECH is an outstanding organization that has consistently led the industry in driving technology adoption." He added, "We also want to thank Eli Lilly for contributing to this award. Lilly's CQM program is the best in the world at combining a disciplined quality management approach with technology."
About FIATECH
FIATECH (http://www.fiatech.org) is a construction industry consortium that provides global leadership in identifying and accelerating the development, demonstration, and deployment of fully integrated and automated technologies to deliver the highest business value throughout the lifecycle of all types of capital projects. The CETI award is given annually to organizations that have conducted new and emerging technology implementations.
About LATISTA Technologies
Unparalleled in the industry, LATISTA's (http://www.latista.com) enterprise web and mobile tablet PC and Apple iPad software delivers quality and field management solutions for construction. LATISTA's current customers already include Fortune 100 capital project owners and top 10 general construction and engineering firms. LATISTA's customers attest that their use of LATISTA has led them to higher quality production, lower costs and reduced legal and financial risks.
###