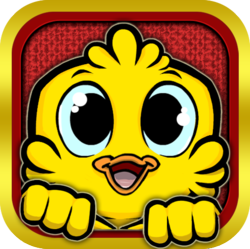 Bringing Qach! to Android devices means more of our fans can help save the ducks than ever before and we are very excited
Hunt Valley, MD (PRWEB) September 21, 2011
Today Latman Interactive Inc. announced the launch of Qach (pronounced 'catch') on the Android platform, giving players the opportunity to help the duck residents of Quackville beat their arch nemesis: The geese. Starting today, players can download the game for 99 cents in the Android Market.
Qach! challenges players to catch and juggle an ever expanding variety of eggs thrown by the evil geese. Each of the eggs has unique properties and if the player can keep them in the air long enough, they will hatch and help repopulate Quackville. Throughout the exciting gameplay players can earn bonus coins, throw eggs into special nests and combine eggs into unique and fun combinations.
"Latman Interactive is committed creating amazingly fun games to both challenge and entertain. From our industry leading puzzle game Quackville to our latest fast paced Qach! we strive to build the best entertainment experience across multiple platforms," said Richard Keith Latman, Chief Executive Officer. "Bringing Qach! to Android devices means more of our fans can help save the ducks than ever before and we are very excited."
The Android version of the game is now available in the Android Market. For game assets and additional information, please contact press(at)latman(dot)com, or visit: http://www.latman.com
Android and Android Market are trademarks of Google, Inc.
About Latman Interactive Inc
Latman Interactive Inc is a mobile game developer founded by entrepreneur Richard Keith Latman in Hunt Valley Maryland. Latman's first game, Quackville, has been a top 10 game in 24 countries and continues to be a very popular iPad, iPhone and iPod Touch offering. For more information please visit http://www.latman.com
###