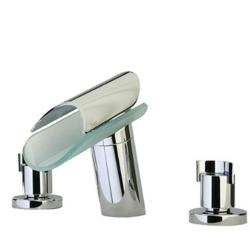 The entire body of LaToscana Morgana faucets are made out of solid brass (except the spouts), which ensures a long corrosion free life of the core material
Aiken, SC (PRWEB) February 08, 2013
LaToscana Morgana Collection of faucets constitute a great new addition to the growing Warehouse USA online inventory and add significantly to its product diversification.
New decorating ideas bring fresh decorating styles in bathrooms, including faucets with new, sleek designs. One such a line offered by Warehouse USA is LaToscana Morgana, a collection of faucets in a modern minimalistic style. However, the faucets are not limited to households that have decorated their interior with predominantly modern appliances. Morgana faucets are recognized for their waterfall spouts that come in either frosted glass or faux wenge wood. The special design of the spout adds a hint of serenity when water runs its course through the clean curve of the spout. The entire body of LaToscana Morgana faucets are made out of solid brass (except the spouts), which ensures a long corrosion free life of the core material. Morgana faucets are in compliance with stringent California lead free regulations and with New York City maximum water flow rate. They use ceramic disc cartridges which ensure long life of the valve and make the faucet drip free. On the top of that, the ceramic disc cartridges offer a smooth operation with low resistance.
The new Morgana models introduced to Warehouse USA's inventory include:

All LaToscana Morgana faucets are now available at Warehouse USA – http://warehouse-usa.com; they are on sale with free shipping throughout 48 contiguous states. For more technical information or if in doubt please don't hesitate to call 888-693-8066.