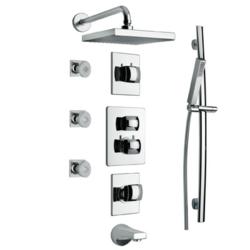 Units using 3 body jets and a shower head require a steady 35 PSI water stream.
Aiken, SC (PRWEB) November 04, 2012
LaToscana shower systems can be composed of as little as two elements (a thermostatic valve with volume control and a stationary shower head or a hand held shower head mounted on a slide bar) or as many as 9 which include 3 valves, tub spout, body jets, stationary, and hand held shower heads.
In order to make a right decision about which shower system could be used, one has to answer two very basic questions:

is the water pressure strong enough to feed the shower system?
is the bathroom large enough to accommodate all elements of the chosen system?
Smaller, one outlet units (i.e.one valve and one shower head) don't really require any water pressure measurements or further space ratio considerations. But units using 3 body jets and a shower head (which in LaToscana shower systems case can run together at the same time) require a steady 35 PSI water stream. Lower water pressures may be not sufficient enough to run all permitted outlets at the same time effectively thus rendering the system substandard in its performance. In order to avoid such unnecessary mistakes, the water pressure should be measured and the flow rate determined by a professional plumber before a four outlet LaToscana shower system is purchased.
The second important item in considering a larger shower system is the wall space availability, meaning that not all visible walls around the shower are suitable for plumbing fixtures. Warmer climates in southern states permit installation of plumbing parts on all walls including exterior ones since intense freezing doesn't occur there. However in the cold climate of northern states, the practice of plumbing installation on exterior walls would be risky and even dangerous because the rough-in pipes can freeze and rupture during winter months. This aspect is also regulated by local building codes. Thus, before considering the shower surrounding walls for placement of shower outlets one has to consult with a qualified plumber.
All LaToscana shower systems are available at http://www.warehouse-usa.com, and come with free ground shipping to 48 contiguous states. In case of needing further information and instructions, please call the toll free number: 888-693-8066