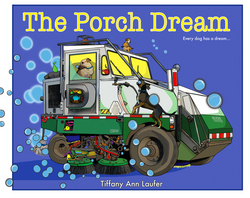 The Porch Dream is faithful to its promise and takes dreaming images to a new level in its lovely illustrations and poetry.
Cleveland, OH (Vocus) April 27, 2010
The Bellaboo Books arm of Laufer Film announced today their new book, The Porch Dream will be included in the prestigious Ohioana Book Festival in Columbus, May 8th. Author / illustrator Tiffany Ann Laufer will be on hand to sign books and speak with the public. The 2010 Ohioana Book Festival celebrates Ohio authors and will be held Saturday, May 8th, 2010 10:00AM – 4:30PM at the Ohioana and the State Library of Ohio 274 E. First Ave., Columbus, Ohio 43201.
"The Porch Dream is faithful to its promise and takes dreaming images to a new level in its lovely illustrations and poetry." said the Midwest Book Review
The Porch Dream, available to books stores via Ingram Books and on the web, received a positive review from the Midwest Book Review. The review comments:
"A wonderful fantasy of recycling adventures and dreams of trash-rescuing permeate "The Porch Dream" in all its wonderful colored illustrations."
The book, written and illustrated by Tiffany Ann Laufer, targets children ages 0 – 8 and is inspired by her own dog (a rescue), Bella and Tiffany's previous job while studying at Georgetown University. Tiffany states "I had a work-study job in the facilities management division and I assisted in the recycling department. This was in the early nineties and I was up to my eyes in plastic bottles and paper – it was a great learning experience". Tiffany went on to study studio art at Georgetown and ultimately cinematography at The American Film Institute.
The book has only five star reviews on Amazon.com, with readers calling the book "A wonderful dreamy tale… . Delightful message with terrific illustrations!' Last fall, it was one of the top sellers at the Buckeye Book Fair.
"I hope this book can help us teach our children and friends that no dream, big or small should be left behind" Laufer said.
"A new voice in writing and illustrating children's picture books", Tiffany Ann Laufer and Bellaboo Books have three books on the market, including Bellaboo & B-Bug's Book of Counting (ISBN-13: 9780982008812); Bellaboo and Colby's Colors of Summer (ISBN-13: 9780982008805).
Tiffany Ann Laufer (author and illustrator) graduated from Georgetown University and got her Masters in Cinematography from The American Film Institute. "She has directed and shot numerous music videos, short films including the new Christmas classic feature film, Christmas at Maxwell's".
ABOUT THE BOOK:
32 Pages, hardcover, $15.99, Full Color / ISBN: 978-0-9820088-2-9
Publication Date: November 2009 - Available: Ingram, B&N, Amazon.com, BellabooBooks.com
For library and school visits contact: Tiffany Ann Laufer at: bellaboobooks(at)gmail(dot)com
Visit: http://www.bellaboobooks.com for more information and the latest news. Tiffany will also be signing books at Asheville's ever popular Malaprop's Bookstore on June 3rd, 2010.
A complete list of the 2010 participating authors at the Ohioana Book Festival can be found at: http://ohioanabookfestival.org/
###