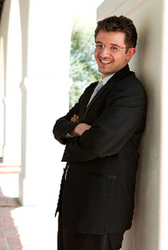 Domenico Boyagian is a gifted young conductor
Cleveland, OH (Vocus) March 23, 2009
As part of its continuing concert program, Saint Ann Church in Cleveland Heights, OH, will offer a free and open to the public Spring concert on Tuesday, May 12th at 7:30 p.m. This wonderful spring concert has a welcoming theme and will feature both classical and contemporary musical selections by Humperdinck, Mozart, Mascagni, Rossini, Gershwin and some surprises. The Saint Ann Chamber Orchestra will be conducted by Domenico Boyagian of CIM.
Mr. Boyagian has received the Jacob and Bronislaw Gimpel Scholarship. He has conducted The Cleveland Institute of Music Orchestra, The Cleveland Institute of Music Chamber Orchestra, The Winnipeg Symphony Orchestra, The Sofia National Orchestra, The Rappahannock POPS Orchestra, Orchestra "La Camerata Musicale Giovanile", California State University, Northridge Youth Symphony, Chagrin Valley Chamber Orchestra and the Pasadena City College Orchestra. He has studied with Carl Topilow, Louis Lane, Gianluigi Gelmetti and John Roscigno. Mr. Boyagian has worked with several distinguished mentors including Michael Tilson Thomas, Larry Rachleff, Alexander Mickelthwate and others. He is a member of the Conductors Guild and Pi Kappa Lambda Music Honor Society.
"Domenico Boyagian is a gifted young conductor," Carl Topilow, Founder Cleveland Pops.
The Cleveland Institute of Music (CIM) is a leading international conservatory, with graduates who perform with the world's most acclaimed musical organizations, including 37 members of the Cleveland Orchestra.
This music program was started under the guidance of Pastor Father James Singler who is the Pastor at Saint Ann Church in Cleveland Heights, OH. Saint Ann Church is located at 2175 Coventry Road in Cleveland Heights, OH, 44118.
A free will offering will be taken (free parking). Free seating passes are available at your organization or the Saint Ann rectory.
Father Daughter Filmmaker team, Bill and Tiffany Laufer, the concert producers, started LauferFilm.com in 1996. Both are graduates of Georgetown University. The Laufers recently completed the award-winning HD feature, Christmas at Maxwell's (http://www.imdb.com/title/tt0420550/). For further information on Saint Ann and the music program, please contact Bill Laufer 216-229-4444 or Renee Barber at 216-321-0024, or e-mail e-mail Bill Laufer at laufer (at) lauferfilm (dot) com or Renee Barber at rbarber (at) saintann (dot) us, or visit http://www.lauferfilm.com/saint-ann-music-1.htm.
###