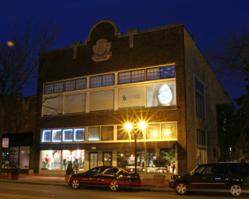 The window looking in becomes the window looking out.
Columbus, OH (PRWEB) March 26, 2012
Le Voyeur is an innovative video art installation in Columbus by Ilke Akcasoy in partnership with the brand accelerator, Launch Farm. The video stylistically details acts of voyeurism and privacy intrusions as it plays outdoors, after dark on Launch Farm's iconic windows at 772 North High Street in the Short North. The installation will run through mid April.
At the Launch Farm's loft-like studio setting, it's hard not to stare out the beckoning windows. On any given day, hundreds of Short North shoppers, diners, cyclists and motorists whiz by with necks craned to see what's going on in the studio upstairs. Le Voyeur flips the script now, as the window looking in becomes the window looking out. Now – who is watching whom?
Istanbul-born artist, Ilke Akcasoy was inspired by the interplay of spectacle and spectator. "I thought it would be interesting to explore the notion of stalking while also pointing out how normalized it has become in our society today," said Akcasoy. The stalking element of Le Voyeur continues to surprise many passers-by as the film stars' giant, high definition eyeballs appear to follow viewers as they walk down the street.
Launch Farm recognizes the community value of local art and plans to promote additional public installations throughout the year. "The more young filmmakers and product designers I meet, the more I want to harness and expose their talents to the world," said Christian Deuber, Principal at Launch Farm. "With digital video just a smart-phone click away - I hope that our actions will inspire others to transform their life-less, dark windows at night into some sort of artistic expression beyond sales promotions."